VisionPro Programmable Thermostat, 1 Heat/1 Cool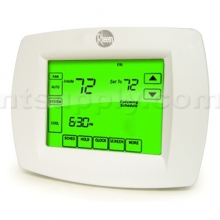 Click to Zoom
About This Thermostat
| | |
| --- | --- |
| MFG: | Honeywell |
| MFG#: | TH8110U1078 |
| Our#: | 176769 |
| Programmable: | Yes (7 day or non-programmable) |
| Stages: | 1H & 1C |
| System Compatibility: | Single Stage, Heat Only, Millivolt |
| Power Options: | Battery, 24 VAC Hardwire |
| Heat/Cool Changeover: | Automatic or Manual |
| Programmable Fan: | Yes |
| Temperature Limits: | Yes |
| Keypad Lockout: | Yes |
| Backlight: | Yes |
| Vacation Hold: | Yes |
Rheem Branded VisionPro Programmable Thermostat, 1 Heat/1 Cool - Model TH8110U1078

This brand new Rheem-branded thermostat is the same as the Honeywell TH8110U1003 - but at an unbelievable price while supplies last! Honeywell is no longer making thermostats for Rheem, and we lucked into a limited supply.

FEATURES:

Touchscreen Interaction
Effortless, Menu-Driven Programming - Simplifies programming by responding to your choices - offers 7-days programming with 4 periods per day.
Energy Savings - You can save up to 33% on annual heating and cooling costs.
Large, Clear Backlit Digital Display - Easy to read in various lighting conditions (can be permanently backlight with use of "common" wire).
Real-Time Clock - Keeps time during power failures and automatically updates for daylight savings.
Change/Check Reminders - Lets you know when to service or replace filters, batteries, etc.
Multiple HOLD Options - Allows you to override the program schedule as desired with temporary and vacation hold settings.
Precise Comfort Control (+/- 1°F) - Maintains consistent comfort at the highest level of accuracy.
Programmable Fan - Offers "CIRC" mode to run fan randomly approximately 35% of time. Provides improved air circulation for more efficient central air cleaning when you do not want the fan running continuously.
Remote Sensor Terminals - connect optional indoor or outdoor remote sensor do display temperature at remote location
Dimensions - 6" W x 4 9/16" H x 1 1/8" D

System Compatibility:
. Single stage gas, oil, or electric heat with single stage air conditioning
. Warm air, hot water, highefficiency furnaces, single stage heat pumps with NO auxiliary or emergency heat, steam, gravity
. Heat only - two-wire systems, power to open and close zone valves (Series 20), and normally open zone valves
. Heat only with fan
. Cool only
. 750 mV (milivolt) heating systems

SPECIFICATIONS:

Warranty - 60 Days
Description - Touchscreen 7-Day Programmable 1 Heat/1 Cool Conventional and Heat Pump Thermostat
Application - Conventional and Heat Pump systems
Programmability - Universal Programming from 7 Day to Non-Programmable
Changeover - Auto/Manual Selectable
Color - Premier White®
Switch Positions (System) - HEAT-OFF-COOL-AUTO
Switch Positions (Fan) - AUTO-ON-CIRC
Power Method - Battery or Hardwired (3, AAA batteries not included)
Terminal Designations - R, RC, C, W (O/B), Y, G, S1, S2
Dimensions (in.) - 4 9/16 in. high x 6 in. wide x 1 1/4 in. deep
Dimensions (mm) - 116 mm high x 152 mm wide x 32 mm deep
Mounting - Horizontal
Setting Temperature Range (F) Heat: 40 F to 90 F; Cool: 50 F to 99 F
Setting Temperature Range (C) Heat: 4.5 C to 32 C; Cool: 10 C to 37 C
Differential Temperature (F) ± 1 F
Differential Temperature (C) ±0.5 C
Stages - Up to 1 Heat/1 Cool
Outdoor Sensor - Yes, optional outdoor or indoor remote
Remote Sensor - Yes, optional outdoor or indoor remote
Sensor Element - Thermistor
Heat Current - 1.0 A running
Cool Current - 1.0 A running
Fan Current - 0.6A running
Operating Humidity Range - (% RH) 5 to 90% RH, non-condensing
Comments - Selectable to and Heat Only or Cool Only
Display Size - 10 sq. in.
Voltage - 20 to 30 Vac or 750 mV
Easy To Adjust
Easy To Install
Intuitive Controls
Precise Controls
Comments about Honeywell VisionPro Programmable Thermostat, 1 Heat/1 Cool:
I bought the Honeywell version of this unit five years ago when I moved to Indiana. Now that I've moved on to Massachusetts, I had to have them in my new home. But for about half the price, who cares if it says Rheem instead of Honeywell! Back then, my home had two heat pumps. This time, two gas furnaces. Just follow the simple setup, and these thermostats can do everything except talk to you.
Easy To Adjust
Easy To Install
Precise Controls
Central Controls
Homes
Large Rooms
Offices
Small Rooms
Comments about Honeywell VisionPro Programmable Thermostat, 1 Heat/1 Cool:
I use this prodct in a small rental unit and I love the fact that you can lock in a temperature limit and that you can make changes on that limit if necessary. It is 7 day programmeable-fabulous!!! And you can lock out all functions except the ability to raise the temperature up to the set limit so the tenant feels he has some control. My tenant doesn't know how to change the lock-out function or change the limit although it is possible to find out how to do it and that's what's not so great about it but for my purposes if I had to choose between the flexibility of changing and a preset unchangeable temperature limit I would go for flexible as you can always change that limit to a different mutually agreeable temperature if a tenant complaints. Right now I have it set for 69 degrees for heat only and I have no complaints. The price was much less than I expected it to be considering the features. This thermostat works very well for me and is very accurate. I'm looking forward to saving on heating bills next winter while keeping my tenant comfortable.