Venstar T5800 ColorTouch Touchscreen Thermostat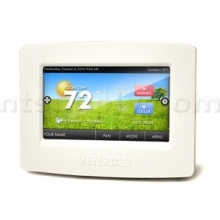 Click to Zoom
About This Thermostat
| | |
| --- | --- |
| MFG: | Venstar |
| MFG#: | T5800 |
| Our#: | 176638 |
| Programmable: | Yes (7-Day, 5+1+1, 5+2) |
| Stages: | 4H & 2C |
| System Compatibility: | Multi-Stage, Heat Pump, Single Stage |
| Power Options: | 24 VAC Hardwire |
| Heat/Cool Changeover: | Automatic or Manual |
| Programmable Fan: | Yes |
| Temperature Limits: | Yes |
| Keypad Lockout: | Yes |
| Backlight: | Yes |
| Vacation Hold: | Yes |
Venstar T5800 ColorTouch Touchscreen Thermostat

ColorTouch is a multi-functional, simple-to-use, richly featured, programmable touch screen thermostat that thinks it's a digital picture frame. ColorTouch has customizable backgrounds, including the users' own photos, and more than a dozen preset themes, including holiday themes.

Note: This thermostat requires 24V "common" wire to thermostat "C" terminal
Product Features & Benefits:
Customizable appearance using users' own photos
Built-in nature and holiday themes
ColorTouch Assistant software make configuring fast and easy
SD Memory Card makes import/export between thermostats easy
Engaging screensavers with slideshow, digital and analog clock options
"Simple as You Want" operation lets user customize thermostat info on display
Scheduler keeps home temperature comfortable
At-a-Glance Screen lets users see temperature and heating/cooling status
Automatically adjust screen backlight with nighttime dimmer
Energy usage info at the user's fingertips
Security features for locking thermostat
Customizable faceplates to match home décor
Automatic daylight savings adjustments, multiple languages, alerts and more
Accessible over the internet through the use of ACC0454 Wifi Internet Key
1 Year Warranty
Terminals: G, Y1, W1/O/B, R, C, W2, Y2, W3, OUTDOOR
Dimensions: 5-1/4" W X 4" H X 1-1/4" D


---
An Engaging Thermostat
The controls of the ColorTouch thermostat were thoughtfully laid out to make its use intuitive and engaging.
Heat and Cool Indicators give "at-aglance" information on heating and cooling, so you can easily see if the air conditioning or heating equipment is on.
Optional Outdoor Temperature Sensor - the ColorTouch thermostat can be wired with an outdoor sensor so that the outside temperature can be displayed right on the screen. You have the option to display the high and low temperatures for the day.
Digital picture frame
Install up to 100 photos and display them as a slideshow when the thermostat is in screen saver mode. If desired, any of these photos may also be selected as the background wallpaper for the thermostat.
With ColorTouch Assistant, you can customize your photos using the builtin editing features and can use the "preview" feature to see how the photo will look as background wallpaper once the thermostat info is placed over the photo.
Built-in nature & holiday themes
ColorTouch comes with more than a dozen built-in nature and holiday themes that can be used as background wallpaper for the thermostat.
Each built-in theme has a separate photo displaying a daytime and nighttime scene, along with showing the sun for the day and the moon for the night. The daytime scene appears from 7:00am until the nighttime scene appears with the moon at 7:00pm.
Holiday themes include Christmas, Hanukkah, Thanksgiving, Halloween and Cinco de Mayo.
Security Set-up Heat and cool stages
With ColorTouch Security you have the ability to enforce temperature set point limits so that the system runs within set temperature parameters. Now no one can run the air conditioning too low or the heat too high.
Security settings also give you the option for automatic screen lock. This locks the screen minutes after it has been touched.
Unlocking the screen requires a pass code to enable access (eliminates kids or guests from changing the thermostat settings).
Runtime Graphs
Easy access to Energy Usage Information lets you clearly see how much energy has been used to heat and cool for the past seven days.
Runtime graphs help you evaluate energy conservation options, giving you the opportunity to decrease energy costs.
View the heating or cooling runtimes separated by stages. Excessive runtimes indicate that it may be time for equipment maintenance.
Set Up Heat and Cool Stages
ColorTouch is compatible with most heating and air conditioning equipment and controls gas/electric or heat pump equipment, with up to 4 heating and 2 cooling stages. ColorTouch is also dual-fuel capable.
ColorTouch is able to intelligently control the equipment. This intelligence also displays the proper equipment status, in terms of heating and cooling stages turned on.
This screen allows you to configure the thermostat for proper equipment staging and equipment status on the display.
Time Period Programming
Time Period Programming has never been so fast and simple to implement on a thermostat.
Our intuitive "Time Period" Scheduler automatically changes the temperature and mode for up to four periods per day. This allows for comfortable temperatures for sleeping, waking, and daytime, plus an energy savings mode for when no one is home.
The screen above shows how easy it is to pick a day of the week to view the schedule.
Service Reminder
Set the Service Alert to let the end user know when it is time to call for maintenance for a winter check-up or a spring cleaning.

Import/export settings from/to SD card
Easily choose what settings you want to import into your thermostat from an SD memory card including your Custom Photos, Dealer Info, Schedule, and Thermostat Name
Using the SD card you may save settings from an existing ColorTouch thermostat that can be exported to other thermostats (so you don't have to program each individual thermostat).
The SD card is prepared using the ColorTouch Assistant software application. (SD memory card, 64Mb minimum, not included)


Easy to adjust (3)
Easy to install (3)
Intuitive controls (3)
Simple controls (3)
Reviewer Profile:
Homeowner (4)
Easy To Adjust
Easy To Install
Intuitive Controls
Precise Controls
Comments about Venstar T5800 ColorTouch Touchscreen Thermostat:
Right out of the box you can literly just "Plug & Play." Very easy to use and program. But if your intimadated by the Thermostat it's self, no worries. First, you can either program it from your PC and download to an SD Card and slip the card into the side of the thermostat. Second, when your away from home you can go online from your Smartphone or Wireless Tablet from ANYWHERE and change the settings, just incredible. Display is like looking at your hi def tv or monitor. My 12 year old was even impressed, lol.
Easy To Adjust
Easy To Install
Precise Controls
Comments about Venstar T5800 ColorTouch Touchscreen Thermostat:
Adjust both homes from internet
Internet Access
Intuitive Controls
Looks COOL
Display could be larger
Needs 24V Common Wire
Comments about Venstar T5800 ColorTouch Touchscreen Thermostat:
Super cool thermostat with really nice display. Bought the wifi key. Had to install latest firmware update to make it work. You need an SD Card reader to do this.

Bottom line - love the thermostat and it the features it offers. The display itself is killer and setup is really easy. Like having family slideshow on the thermostat. Love being able to set back my temperature from our lake house 2 hours away via my Droid.

This thermostat is NOT battery powered - you must have 24V Common coming to "C" terminal.

LOVE THIS PRODUCT.
Colorful display
Easy To Adjust
Easy To Install
Impressive
Intuitive Controls
Precise Controls
Responsive Touchscreen
Central Controls
Homes
Large Rooms
Offices
Small Rooms
Comments about Venstar T5800 ColorTouch Touchscreen Thermostat:
I did lots of research - in order to find the ultimate thermostat. Some kind of gadget that my friends and family would notice as they walked by it. Because they know me and my ultimate gadgets around the house! This one does exactly that. My wife loves the ease of operation and the clear settings and controls! The only thing I did not like about it was the separte outdoor temp sensor that I ordered along with it because it was not WIRELESS. I would have to add a wire from the thermostat to the outdoor temp sensor (where ever I wanted to mount it) and I was not going to drop another wire into the wall and through the attic to the out side somewhere (that would just be too much work). But everything else about this thermostat is very impressive! I recommend it!