Honeywell LineVoltPro 7000 Non-Programmable Heat Only Thermostat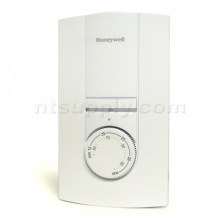 Click to Zoom
About This Thermostat
| | |
| --- | --- |
| MFG: | Honeywell |
| MFG#: | TL7130A1006 |
| Our#: | 175841 |
| Programmable: | No |
| Stages: | 1 Heat |
| System Compatibility: | Line Voltage |
| Power Options: | Hardwire |
| Heat/Cool Changeover: | None |
| Programmable Fan: | No |
| Temperature Limits: | No |
| Keypad Lockout: | No |
| Backlight: | No |
| Vacation Hold: | No |
Honeywell's Digital LineVoltPRO 7000 offers the simplicity and basic features of a conventional thermostat, with the added precision and comfort control of a Honeywell electronic thermostat. Its advanced technology minimizes temperature swings and keeps you consistently comfortable. Single-Pole thermostat

Features:

Electronic temperature control - precision of +/-1 F saves up to 10%* on heating bills.
Easy temperature setting - with single control dial.
Soundproofed for quiet operation - reduces the clicking noise commonly heard with conventional thermostats.
On/Standby switch allows you to turn the thermostat off at the end of the heating season.
Temperature range stops - prevents user from setting the temperature too high or too low.
Maintenance free - no batteries required.
5-year limited warranty.
Specifications:

Application Electric baseboards, convectors and fan forced heaters (resistive rated loads).
Mounting Vertical Mount
Color Premier White®
Stages 1 Heat
Electrical Connections 5.5 in. (140mm) tinned copper lead wires
Switch Type Relay
Switching Action SPST
Accuracy (F) ±1 F
Accuracy (C) ±0.5 C
Dimensions (in.) 4 7/8 in. high x 2 3/4 in. wide x 7/8 in. deep
Dimensions (mm) 124 mm high x 70 mm wide x 23 mm deep
Setting Temperature Range (F) 59 F to 95 F
Setting Temperature Range (C) 15 C to 35 C
Electrical Ratings 16.7 Amps Max; 4000 Watts at 240 VAC, 3470 Watts at 208 VAC
Frequency 50 Hz
Frequency 60 Hz
Sensor Element Thermistor
Operating Temperature Range (F) 32 F to 140 F
Minimum Temperature Setting (F) Thermostat maintains 45 F when dial is set below 59 F.
Minimum Temperature Setting (C) Thermostat maintains 7 C when dial is set below 15 C.
Approvals, Underwriters Laboratories Inc UL Listed 9R12, File Number: E183695
Approvals, Canadian Standards Association cCSAus, File Number: LR76030
Voltage 208/240 Vac
Easy To Adjust
Easy To Install
Comments about Honeywell LineVoltPro 7000 Non-Programmable Heat Only Thermostat:
You get electroic accuracy, which maintains tempeature within one degree of set temperature which delivers even heat and energy savings. If you have a power interruption or power outage, the temperature stays where you have it set most all digital thermostats which have electronic accuracy has a default temperature which changes to a higher or lower temperature than what you have set when power is restored. Simple to adjust, one dial sets temperature and one switch turns your heat on or off. Good for end of heating season and simple for elderly people to control.
Easy To Adjust
Easy To Install
Intuitive Controls
Precise Controls
Homes
Large Rooms
Offices
Small Rooms
Comments about Honeywell LineVoltPro 7000 Non-Programmable Heat Only Thermostat:
Wired in to override a portable's built in control. (It was very erratic.)
A little dificult to identify the marks for min/max limit settings.
Am considering replacing earlier Honywells.