BAYweb Wired Occupancy Sensor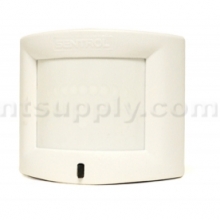 Click to Zoom
About This Product
| | |
| --- | --- |
| MFG: | BAYweb |
| MFG#: | BW-SEN-PI6000 |
| Our#: | 175371 |
BAYweb Wired Occupancy Sensor

For use with the BAYweb Thermostat for a self monitored security and automatic thermostat setback.

Connect this sensor to the wired inputs on your BayWeb thermostat. Configure the thermostat to send alerts when occupancy is sensed. The sensor can also be used to automatically "set back" thermostat when no occupancy is sensed for a given time period and to heat or cool home to comfortable temperature when occupancy is sensed. Using the BAYweb thermostat with an occupancy sensor is the easiest way to insure you are paying for heating/cooling only when you are home!

Features:
Easy-to-install housing, sealed optics, an opaque Fresnel lens, and either two- or three-mode pulse settings.
Includes 12V DC AC power adaptor
Same as GE Sentrol PI6000 Motion Sensor with 40-ft. range and pet Immunity feature for pets with total weight of less than 30 pounds
The Sentrol 6000 Series Passive Infrared Detectors are designed for use in residential applications. These detectors utilize dual pyroelectric sensors with jumper selectable pulse count (two- or three-pulse mode). Advanced signal processing provides high immunity to false trips - RFI, lightning, vibration, and rapid temperature changes. The 6000 series comes with a Form A alarm contact and a normally closed tamper switch.

INSTALLATION TIPS:
Mount the detector at a height of 7feet (2.1m) to 9 feet (2.7m) .
. Mount the detector either flat on the wall or in a corner.and at least 3/8" (0.95cm) from the ceiling.
. Do not locate the detector where it may be exposed to false alarm sources, such as:
- heat sources in the field of view
- direct or reflected sunlight
- strong air drafts (fans, air conditioners, etc.) on unit
. Do not aim the detector at windows or glass doors.
. Mount the detector on a rigid, vibration-free surface.
. Do not locate the detector on a surface exposed to moisture.
. Do not locate the detector where the ambient temperature is below 14°F (-10°C) or above 122°F (50°C).
. PIRs require a clear line of sight. Inform end-users not to block the coverage pattern with inventory, furniture, decorations etc.

Dimensions: 3.05" W X 2.68" H X 1.9" D
Poor alignment on plastic
Comments about BAYweb Wired Occupancy Sensor:
Easy to use and a good value. The included transformer worked great, despite a long cable run. I did have to use a screw to hold the 2 halves of the plastic casing together- the halves would not stay together once the sensor was mounted. This will more than pay for itself when used in combination with the Bayweb Internet thermostat.