Acu-Rite 00611A2 Wireless Hygrothermometer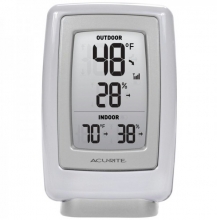 Click to Zoom
About This Product
| | |
| --- | --- |
| MFG: | Acu-Rite |
| MFG#: | 00611A2 |
| Our#: | 174965 |
Acu-Rite 00611A2 Wireless Hygrothermometer
Acu-Rite 00611A2 Wireless Weather Thermometer with Humidity features a large, easy-to-read display. The outdoor temperature is prominently displayed on top. Relative outdoor humidity, daily high and low temperature and indoor temperature and humidity are displayed below.

The 00611A2 includes one remote wireless sensor with an effective transmission range of approximately 100 feet. This product can help you monitor the effectiveness of your dehumidifier and/or humidifier. Place the remote sensor outdoors, or in your crawl or basement.
Features:


Indoor and outdoor temperature
Indoor and outdoor humidity
Daily high/low temperature
Temperature trend display
Main unit temperature range: 32 to 122 degrees Fahrenheit (0 to 50 degrees Celsius)
Indoor Humidity range: 16% to 98% RH
Outdoor Humidity Range: 1% to 99% RH
Sensor temperature range: -40 to158 degrees Fahrenheit (-40 to 70 degrees Celsius)
Main unit requires 3 AA batteries (not included)
Sensor requires 2 AA batteries (not included)
Sensor transmission range up to 300 feet (99 meters), unobstructed
Tabletop or wall mount option
1 year limited manufacturer warranty
One remote wireless temperature sensor is included.
Main Unit Dimensions: 5.5" H x 3.5" W x 1.3" D
Remote Sensor Dimensions: 4.8" H x 1.6" W x .9" D
Easy to use (12)
Good value (8)
Easy to install (7)
Reliable (7)
Accurate (6)
Home (3)
Indoor (3)
Outdoors (3)
Reviewer Profile:
Casual user (6), Enthusiast (3), Power user (3)

Primary use:
Personal (11)
I purchased this product to see exactly how bad the humidity level was under my raised home in New Orleans. It was amazing to see the number register as the device read underneath the house, then to see the numbers begin to fall as I put the device in the backyard. It was very clear that the humidity level under my house was very high and the ventilation was not there.
Accurate
Easy to Install
Easy to Use
Good Value
Reliable
I had problems with the RH in my crawlspace on the coast. After some moisture prevention measures I installed the device to monitor and it works perfectly.
Accurate
Easy to Install
Easy to Use
Waterproof
Knew my crawlspace needed work, just needed some data to show progress.
Installed remote unit in center of crawl space, kept main unit outdoors to compare fluctuations in outdoor temp and humidity to the crawl space as my work on closing the crawl space progresses.
Just what the doctor ordered.
Accurate
Easy to Install
Easy to Use
Good Value
Reliable
I have two complaints: 1) there was a lag between putting that batteries in and the unit beginning to work. It takes time for the remote sensor and the base to start communicating with each other, so for a brief period of time, I thought it was broken. 2) Now that I know the relative humidity in my crawl space, I have something to stress about as I encapsulate my CS. I have had RH as high as 78%, and my research indicates that mold can start in the 60%'s.
Incentive to get the job done.
Accurate
Easy to Install
Easy to Use
Good Value
Lots of Features
Reliable
Waterproof
Indoor
Outdoor
Under the house
I have a sealed crawlspace and this product is just the thing to monotor the temperature and the humidity. I added a whole house humidifier so this also tells me if that is working properly. Absolutely no fuss. I just check it when I walk by the attractive display.
Accurate
Easy to Install
Easy to Use
Good Value
Large display
Very nice unit but it would have been nice to have it read multiple remotes
Accurate
Easy to Use
Good signal strength
Good Value
Lots of Features
Reliable
I place the "outside" sensor in the basement to monitor the basement temperature and humidity. I purchased 2 units, as well as several other types, and the readings agree. Great product!
Easy to Install
Easy to Use
Good Value
I recommend these to my clients to remotely monitor humidity in the crawlspace. If it's damp down there, you want to know right away.
Easy to Install
Easy to Use
Good Value
Lots of Features
Reliable
Waterproof
We put this thermostat in the greenhouse so we could monitor the temperature and humidity from inside our home. It first, it was giving the exact same readings as the thermostat on our deck. Puzzling. Then we realized they were on the same frequency. LOL! We changed the setting and bingo, perfect readings! It's quite interesting to watch the differences between the temperature and humidity in our home, outdoors, and in the greenhouse.
I am using this product to measure the humidity and temperature in my crawl space remotely.
Primary use:
Personal
Was this a gift?:
No