ProThermostats.com
> Braeburn Model 3000 Digital Non-Programmable Thermostat - 1 Heat / 1 Cool
Braeburn Model 3000 Digital Non-Programmable Thermostat - 1 Heat / 1 Cool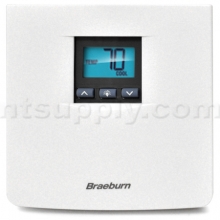 Click to Zoom
About This Thermostat
| | |
| --- | --- |
| MFG: | Braeburn |
| MFG#: | 3000 |
| Our#: | 172298 |
| Programmable: | No |
| Stages: | 1H & 1C |
| System Compatibility: | Single Stage, Millivolt |
| Power Options: | Battery |
| Heat/Cool Changeover: | Manual |
| Programmable Fan: | Yes |
| Temperature Limits: | No |
| Keypad Lockout: | Yes |
| Backlight: | Yes |
| Vacation Hold: | No |
NO LONGER AVAILABLE - REPLACED BY BRAEBURN MODEL 3020

Braeburn Model 3000 Digital Non-Programmable Thermostat - 1 Heat / 1 Cool

The digital non-programmable thermostat shall be a Braeburn®, model number 3000, 4.63" high x 5.00" wide x 1.25" deep, powered by two "AA" Alkaline batteries (3.0 Volt DC). The thermostat shall be compatible with single stage gas, oil or electric heating or cooling systems including single stage heat pumps and 250mv - 750mv millivolt heating systems. The thermostat shall have a bright blue backlight display, front loading battery door, separate sub-base for trouble free installation and keypad lockout. Temperature control range shall be between 45° and 90° F (7° and 32° C), accuracy of +/- 1° F (+/- .5° C), humidity range between 5% and 95% relative humidity. The thermostat shall include programmable recirculating fan mode, residual cooling fan delay and separate heating and cooling set points. A front reset button will return user settings to default values when pressed. The thermostat can be mounted to a horizontal or vertical junction box.
FEATURES:

. Large Display with Bright Blue Backlight
. Easy Access Front Battery Door
. Battery Powered with Latching Relay Output
. Recirculating Fan Mode
. Residual Cooling Fan Delay
. Separate Heating and Cooling Set Points
. Compressor Short Cycle Protection
. Adjustable Temperature Differential
. ESD GuardT Electronic Circuitry
. Front Access Reset Button
. F° / C° Switch
. Gas / Electric Fan Switch
. Mount to Horizontal or Vertical Box
. Separate O & B Terminals
. Keypad Lockout

SPECIFICATIONS:

Dimensions: 4.63" x 5.00" x 1.25"
Electric Rating: 24 Volt AC (18-30 Volt AC)
1 amp maximum load per terminal
2 amp total maximum load (all terminals)
DC Power: 3.0 Volts DC
(2 "AA" Alkaline batteries included)
Compatibility: Single stage gas, oil or electric systems
Single stage heat pump systems
250mv - 750mv millivolt heating systems
Control Range: 45° to 90° F (7° to 32° C)
Display Range: 40° to 99° F (4° to 37° C)
Accuracy: +/- 1° F (+/- .5° C)
Temperature Differential: .5°, 1°, or 2° F (.25°, .5°, or 1° C)
Storage Temperature: 14° to 140° F (-10° to 60° C)
Operating Humidity: 5% to 95% Relative Humidity
Interchangeable
Sub-Base: Braeburn 5000 and 5050 Programmable
1 Heat / 1 Cool
Terminations: Rc, Rh, G, W, Y, B, O
Easy to adjust (12)
Easy to install (11)
Intuitive controls (8)
Simple controls (7)
Reviewer Profile:
Homeowner (10)
Easy To Adjust
Easy To Install
Comments about Braeburn Model 3000 Digital Non-Programmable Thermostat - 1 Heat / 1 Cool:
This product did not hold the temperature and did not arrive in a sealed packaging. Therefore, I don't know if I received a broken product, but I have one already and KNOW that this item does not hold its temperature.
Service and delivery comments:
Arrived on time, but not in a new packaging, which makes me wonder if I received a defective item. I am planning on returning this item ASAP.
Easy To Adjust
Easy To Install
Intuitive Controls
Comments about Braeburn Model 3000 Digital Non-Programmable Thermostat - 1 Heat / 1 Cool:
Very good product