ProThermostats.com
> Braeburn Model 2000NC 1 Heat/1 Cool Tamper Proof Programmable Thermostat
Braeburn Model 2000NC 1 Heat/1 Cool Tamper Proof Programmable Thermostat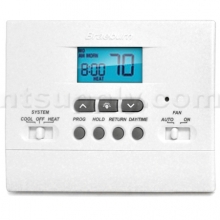 Click to Zoom
About This Thermostat
| | |
| --- | --- |
| MFG: | Braeburn |
| MFG#: | 2000NC |
| Our#: | 172296 |
| Programmable: | Yes (5 + 2) |
| Stages: | 1H & 1C |
| System Compatibility: | Single Stage, Millivolt |
| Power Options: | Battery |
| Heat/Cool Changeover: | Manual |
| Programmable Fan: | No |
| Temperature Limits: | Yes |
| Keypad Lockout: | No |
| Backlight: | Yes |
| Vacation Hold: | Yes |
Braeburn Model 2000NC 1 Heat/1 Cool Tamper Proof Programmable Thermostat. Includes same setpoint limiting feature as models 1000NC and 2200NC.

This thermostat was specifically designed to help owners/managers of "all utilities paid" apartments. A two-step setpoint limiting process insures that temp limits will stay in effect.

Temperature Limiting Example:
Prevent Heat Setpoints Above 71 Degrees
Prevent Cooling Setpoints Below 78 Degrees

The digital programmable thermostat shall be a Braeburn®, model number 2000NC, 3.75" high x 4.94" wide x 1.19" deep, powered by two "AA" Alkaline batteries (3.0 Volt DC) with 5-2 day programming. The thermostat shall be compatible with single stage gas, oil or electric heating or cooling systems including single stage heat pumps and 250mv - 750mv millivolt heating systems. The thermostat shall have a bright blue backlight display, front loading battery door and separate sub-base for trouble free installation. Temperature control range shall be between 45° and 90° F (7° and 32° C), accuracy of +/- 1° F (+/- .5° C), humidity range between 5% and 95% relative humidity. The thermostat shall include non-volatile memory to retain user settings, filter check monitor, adaptive recovery mode (ARMT) and separate heating and cooling set point program times and temperatures. A front reset button will return user settings to default values when pressed. The thermostat can be mounted to a horizontal junction box.
FEATURES:

. 5-2 Day Separate Weekday / Weekend Programming
. Large Display with Bright Blue Backlight
. Battery Powered with Latching Relay Output
. Non-Volatile Memory to Maintain User Settings
. Filter Check Monitor
. Adaptive Recovery Mode (ARMT)
. Adjustable Temperature Differential
. ESD GuardT Electronic Circuitry
. Compressor Short Cycle Protection
. Separate Heating and Cooling Set Point Program Times and Temperatures
. Temporary Program Override for 4 Hours or UntilNext Set Point
. Programmable Extended Hold Mode
. Front Access Reset Button
. F° / C° Switch
. Gas / Electric Fan Switch
. Mount to Horizontal Box
. Easy Access Front Battery Door
. Separate O & B Terminals
. Meets ENERGY STAR® and California Title 24 Guidelines

SPECIFICATIONS:

Dimensions: 3.75" x 4.94" x 1.19"
Electric Rating: 24 Volt AC (18-30 Volt AC)
1 amp maximum load per terminal
2 amp total maximum load (all terminals)
DC Power: 3.0 Volts DC
(2 "AA" Alkaline batteries included)
Compatibility: Single stage gas, oil or electric systems
Single stage heat pump systems
250mv - 750mv millivolt heating systems
Control Range: 45° to 90° F (7° to 32° C)
Display Range: 40° to 99° F (4° to 37° C)
Accuracy: +/- 1° F (+/- .5° C)
Temperature Differential: .5°, 1°, or 2° F (.25°, .5°, or 1° C)
Storage Temperature: 14° to 140° F (-10° to 60° C)
Operating Humidity: 5% to 95% Relative Humidity
Interchangeable Sub-Base: Braeburn 1000 Non-Programmable
1 Heat / 1 Cool
Terminations: Rc, Rh, B, O, Y, W, G
Easy to install (11)
Easy to adjust (9)
Intuitive controls (6)
Simple controls (6)
Reviewer Profile:
Homeowner (7), Landlord (4), Avid do-it-yourselfer (3)
Easy To Adjust
Easy To Install
Precise Controls
Comments about Braeburn Model 2000NC 1 Heat/1 Cool Tamper Proof Programmable Thermostat:
Use it in my Family room on a Gas Stove that uses a millivolt thermostat. It works fine and the adjustable differential is great. It could be easier to program but that's minor. Have another manufacturer on the main furnace and the differential is set and it's too close. I'm thinking of getting another Braeburn to replace that one.
Easy To Adjust
Easy To Install
Intuitive Controls
Precise Controls
Comments about Braeburn Model 2000NC 1 Heat/1 Cool Tamper Proof Programmable Thermostat:
Works as described