ProThermostats.com
> White-Rodgers 1F85-0471, Multi-Stage Programmable (5+1+1 day) Thermostat
White-Rodgers 1F85-0471, Multi-Stage Programmable (5+1+1 day) Thermostat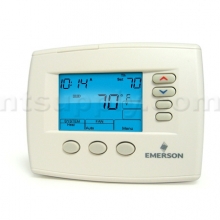 Click to Zoom
About This Thermostat
| | |
| --- | --- |
| MFG: | White-Rodgers |
| MFG#: | 1F85-0471 |
| Our#: | 137100 |
| Programmable: | Yes (5+2, 5+1+1, or non-programmable) |
| Stages: | 3H & 2C |
| System Compatibility: | Heat Pump, Multi-Stage |
| Power Options: | 24 VAC Hardwire, Battery |
| Heat/Cool Changeover: | Automatic or Manual |
| Programmable Fan: | No |
| Temperature Limits: | No |
| Keypad Lockout: | No |
| Backlight: | Yes |
| Vacation Hold: | No |
REPLACED BY MODEL 1F85-0477

White-Rodgers 1F85-0471, Multi-Stage Programmable (5+1+1 day) Thermostat
The best-selling digital thermostat series now has Blue. 80 Series Blue has a large 4-square-inch, easy-to-view Blue display and enhanced home comfort features. Take all the best features of the 80 Series, add exclusive Cool SavingsT, dedicated programmable or non-programmable, longer battery life with exclusive battery power monitor - put it all in a sleek, compact package and you have 80 Series Blue. Tried and true now comes in Blue!
Exclusive 80 Series Blue Features:
Large, 4-square-inch Blue display with easy-to-see characters
Quick one-button programming
Configures as manual heat/cool, auto changeover, heat only or cool only
Exclusive Cool SavingsT feature saves energy during peak A/C demand periods
Hydronic 2 or 3 wire applications
Three anticipation settings
Exclusive battery power monitor
Longer battery life
Easy-access battery compartment
5-year warranty

Programming:
Choice of 5/1/1 day programmable, 5/2 day or non-programmable
4 time and 4 temperature settings per program (heat & cool)
Energy savings up to 33%
Patented pre-programmed software simplifies time and temperature programming
Display:
Large LCD with improved contrast for easier reading
Lighted display for easier low-light viewing
Comfort & Convenience:
Permanent program retention during power loss
Indefinite setpoint Hold
Air filter change indicator
Simple "set-up" menu to activate optional features
Temporary temperature override two-hour minimum or until next program period
Soft-touch keypad
Display temperature recalibration (+/- 4°)
Performance:
Dual-Powered.choice of battery-powered or hardwired, for all applications
Selectable Energy Management Recovery
Meets ENERGY STAR® specifications
Meets California Building Code, Title 24
Fast (FA) or slow (SL) heating cycle anticipation
Easy-to-wire terminal block
Compressor lockout protection
Millivolt compatible
Electric heat option
Dimensions:
5.1"W x 3 .9"H x 1.2"D

Electrical Specifications:
Rating
0 to 30 VAC, 50/60 Hz or DC
0.05 to 1.5 Amps (load per terminal)
2.5 Amps maximum load
(all terminals combined)
Standard Systems
Gas, oil, electric
Single Stage/Heat Pump/Multi-Stage
Millivolt Systems
2 or 3 wire hydronic zone valve

TERMINALS: RC, RH, C, G, W/E, W2, Y, Y2, O/B, 6, L
Easy To Adjust
Easy To Install
Intuitive Controls
Precise Controls
Comments about White-Rodgers 1F85-0471, Multi-Stage Programmable (5+1+1 day) Thermostat:
This is avery good product. Blue screen is very nice and easy to read. Not the most expensive thermostat but gets the job done. I don't think you save all that much with thermostats that utilize outdoor sensors.
Comments about White-Rodgers 1F85-0471, Multi-Stage Programmable (5+1+1 day) Thermostat:
NICE BLUE INDIGLO REALLY LOOKS MODERN IN A ROOM, DON'T HAVE TO TURN THE ROOM LIGHT ON TO ADJUST THE TEMP, REALLY LIKE THAT FEATURE ESPECIALLY AT NIGHT.EASY TO USE CONTROLS. NICE BIG READ-OUT.VERY HAPPY WITH PRODUCT.