ProThermostats.com
> Totaline P286-1500 Thermostat With Humdification/Dehumidification Control and Duel Fuel Switch
Totaline P286-1500 Thermostat With Humdification/Dehumidification Control and Duel Fuel Switch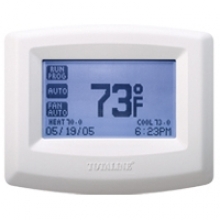 Click to Zoom
About This Thermostat
| | |
| --- | --- |
| MFG: | Totaline |
| MFG#: | P286-1500 |
| Our#: | 113636 |
| Programmable: | Yes (NULL) |
| System Compatibility: | Multi-Stage, Heat Pump |
| Power Options: | 24 VAC Hardwire |
| Heat/Cool Changeover: | Automatic or Manual |
| Programmable Fan: | Yes |
| Temperature Limits: | No |
| Keypad Lockout: | Yes |
| Backlight: | Yes |
| Vacation Hold: | Yes |
Totaline P286-1500 Thermostat With Humdification Control and Duel Fuel Switch (when used with optional P286-0001 outdoor sensor)
** Exclusive to TotalTouchT, includes fossil fuel switch which is only activated when compbined with our Outdoor Wireless Transmitter and Receiver Kit (P286-0001)

Feature Explanation:
" . . Increasing energy efficiency and reducing costs can be achieved by using the dual fuel switch. Your heat pump can generally provide heat and confort without assistance to an outside temperature of just a few degrees below freezing. This temperature is called the heat pump balance point. When the outside temperature is above the balance point, the heat pump alone is sufficient for heating. One the outdoor tempreature drops to the balance piont the heat pump must be assistant by your alternate energy source. Whent the outdoor temperature drops below the systems normal corssover temparature, your heat pump will stop operating andt he alternate energy suorce will take over . . "
3 Heat / 2 Cool

Control at your fingertips.
Set and Forget Programming provides an easy to use menu which guides you effortlessly through setting the thermostat, so straightforward no instruction manual is needed. Each day of the week, 4 periods per day including fan option and an extra output which can be used as you choose.
Vacation Mode saves energy and money without compromising comfort by restoring normal settings on the day of return.
Multi-level security ensures protection; FULL LOCK prevents accessing any control options or settings without entering the custom 4 digit PIN.
PARTIAL Lock allows changing only the temperature set point without entering the pin number.
Power failure protection safeguards clock and memory.

Comfort you can feel.
Enjoy comfort with Smart logic Auto mode which automatically selects heating or cooling to maintain the set point temperature.
Maintain the highest level of indoor air quality plus programmable interval reminders are standard with Filter Monitor.

Count on exceptional technology.
Exclusive blue LED screen with backlight option.
Exclusive to TotalTouchT, includes fossil fuel switch which is only activated when compbined with our Outdoor Wireless Transmitter and Receiver Kit (P286-0001)
Advanced staging controls deliver premium comfort and control +/- 1°F.
Heat pump protection circuit safeguards the compressor from damage when Stage II heating is located upstream of the evaporator.
Adjustable "timeout" and differential settings for multistage installations provides precise control.
In each TotalTouchT thermostat is a built in Simple Mode thermostat. Hiding all advanced features from view which provides a larger display of room temperature, humidity and temperature set point.
All backed by a 2 year Warranty over the counter.

Dimensions: 5.75" X 4.75" X 1.25"
Display Dimensions: 3.625" X 2.125"
Setpoint Range: 45-90 degrees F

Features:

* Large Dot Matrix Screen
* Clear, large, backlit display - on-demand or continuous
* Positive or negative screen for night viewing
* Easy & Safe to clean display
* Automatic daylight saving time
* 12/24 hour clock and date display
* Temperature display in °F or °C
* Simple mode interface hides all advanced features from view providing a clearer display of room temperature, humidity and temperature setpoint.
* Easy reset for return to a programmable thermostat.
* Intuitive menu drivern program
* 7 Day programming with 4 periods per day
* Programmable Fan mode
* Fan On/Auto/Intermittent mode
* Programmable Filter monitor
* Programmable installer message
* Energy Efficient Vacation Mode
* Full/Partial lock security mode with customizable password setting
* Adjustable Dead Band
* Adjustable differential settings for multistage installation
* Auto mode - automatic selection of cool or heat mode
* Hold temperature mode
* Energy Watch calculates kWh of use and HVAC total cost
* Never worry power-failure protection ensures all user settings are safely stored in non-volatile memory. On-board battery backup feauture runs the clock for up to 20 hours without electrical power.
* Energy Star approved
* Warranty (years) - 2