AirCyclerT Automatic Fan Plus Ventilation Control - Model FRV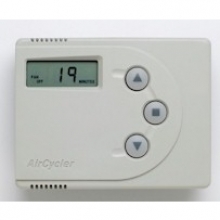 Click to Zoom
About This Product
| | |
| --- | --- |
| MFG: | AirCycler |
| MFG#: | FRV |
| Our#: | 113017 |
The AirCyclerT Model FRV is a low-cost device that works with your air handler and low-voltage thermostat. By periodically operating the central heating and cooling system fan, AirCyclerT markedly improves the temperature control, humidity and filtration system in a house. It allows "averaging" of air temperature throughout the house and eliminates stagnant and uncomfortable air that a thermostat can't detect. AirCyclerT is "smart" because it knows when the central system fan operates and activates the fan only after a selected period of time during which the fan has not operated.
The "FR-V" adds a 24VAC output to control a motorized damper and effectively regulate fresh air ventilation. When the central fan is energized, the damper is opened for a selectable "ON" time and closed for a selectable "OFF" time, repeating while the central fan is on. Cycling limits excessive ventilation during extended fan run times. Particularly effective in extreme climates when extended heat or cooling operation occurs frequently.
BENEFITS:
* Mixes and circulates indoor air
* Eliminates stagnant air
* Creates even temperature and humidity levels throughout the home
* Filters indoor air consistently
* An economical alternative to continuously running the furnace fan
* Enables furnace add-ons to work properly (HEPA filters, ERVs, HRVs, Humidifiers, and Dehumidifiers)
WIRING DIAGRAM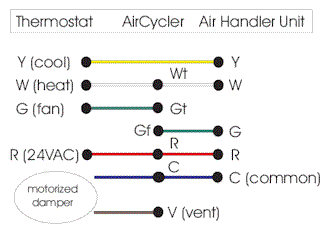 INSTALLATION CONSIDERATIONS:
The AirCyclerT model does not require batteries. It does require 24VAC (R and C terminals) to be connected for proper operation. The AirCyclerT will not operate without these two connections. The wires (R, C, W, and Y) from the air handler to the thermostat can run parallel with the wiring from the AirCyclerT to the air handler. The fan wire (G) needs to be interrupted by the AirCyclerT . Some thermostats do not requitre a (C) connection. The AirCyclerT requires a (C) for power, which needs to be wired to the furnace.
SPECIFICATIONS:
Operating Voltage: 24 VAC (up to 30 VAC max.)
Current draw: 0.07 Amps
Settings:
Fan ON and OFF delay settings / Vent ON and OFF delay settings:
1 to 199 minutes in 1 minute increments, plus an unlimited setting for both ON and OFF.
Notes: The AirCyclerT ON/OFF function enables or disables the fan recycling function, but all thermostat control signals operate regardless of the switch position. All outputs protected by a 3A self-resetting fuse, impossible to damage with wiring errors.
Easy To Adjust
Easy To Install
Eliminate Stale Air
Equalize temperature
Improve Air Filtration
Improve Energy Effiency
Intuitive Controls
Precise Controls
Supercharge that UV light
Central Controls
Homes
Large Rooms
Light Commerical HVAC
Offices
Residential HVAC
Small Rooms
Works on any 16v control
Comments about AirCyclerT Automatic Fan Plus Ventilation Control - Model FRV:
I have installed this device into the HVAC system of my own residence and it works flawlessly from the word go.

It has virtually eliminated the nightly headaches I get from air stratification [stale air], it has supercharged the filtration of my electrostatic air filter, has allowed more cubic feet of air to be treated by my condenser UV light, normalized the temperature throughout my home [no more hot/cold spots], has saved me money off my monthy power bill, and has improved the overall smell of the air within my home.

The install is easy for a professional, I do not recommend anyone without electrical or control knowledge to attempt this install as if your short your low voltage HVAC power supply you will easily cook the little transformer and disable your HVAC system until the transformer is replaced. Anyone with basic electrical knowledge can handle the simple wiring, if you've wired a thermostat, you can handle this install.

I opted to install the unit directly on the evaporater housing as it's not necessary to mount it near the thermostat [unless you get the one with built in thermostat the FR-V is not]. It's off to the side and viewable if you lean toward it, other than that its out of mind as all you really do is set it and forget it. Mounting it on the air handler or condenser makes wiring easier as you will not have to buy several feet of bell wire. I believe I may have used two additional feet on my own install, wire was like 40 cents per foot.

I have installed similiar devices by Aprilair and Johnson Control however they ually run around $400 wholesale. I was researching purchasing a surplus GE FANUC micro controller and writing the control code myself, this has saved me a few weeks of coding and testing headaches [I used to be a programmer in a past life].

The included option [the "V" in FR-V] is my next project. Including the control for Fresh Air Induction or OSA [Outside Air] into the controller just makes the AirCycler that much more of a value. Activating the OSA option will be my downtime project. It's not a problem, I just am a stickler for my calculations as I want to meaure the negative pressure of my system fan on the chosen diameter pipe and damper to calculate the FPM of outside air drawn in and limit it to 15% of total condition air volume per 24 hour period, it's easier to work backwards on this type of calculation to set damper action. Don't forget to filter your OSA, especially if you neighbors who insist on burning wood to heat their home, which is why I will have this disabled or minimized during the winter.