Proliphix NT20e & EPA-20 Kit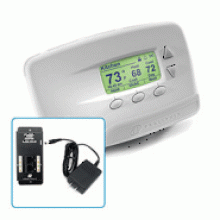 Click to Zoom
About This Thermostat
| | |
| --- | --- |
| MFG: | Proliphix |
| MFG#: | NT20e - EPA20 |
| Our#: | 110254 |
| Programmable: | Yes (NULL) |
| System Compatibility: | Single Stage |
| Power Options: | 24 VAC Hardwire |
| Heat/Cool Changeover: | Automatic or Manual |
| Programmable Fan: | No |
| Temperature Limits: | No |
| Keypad Lockout: | No |
| Backlight: | Yes |
| Vacation Hold: | Yes |
Single Stage Programmable Internet Thermostat 1-Stage Heat / 1-Stage Cool

The first and only Internet enabled thermostat offering features far in excess of existing programmable or serial communicating thermostats that also offers users and installers the flexibility of secure, Internet based remote control from anywhere in the world.

Ideal for the broadband connected household or commercial enterprise, these networked thermostats were designed specifically to simplify the tedious effort of configuring and programming electronic thermostats for maximal energy efficiency, as well as eliminate the need for dedicated RS232 or RS485 connections.

The Proliphix Internet Connected Thermostats add HVAC control to the emerging world of converged data, voice and video over the Internet.

Thermostat Management Interface

The Thermostat Management Interface (TMI) can be accessed on a local network from any computer which has installed an approved Proliphix web browser. Proliphix supports the following web browsers:

. Internet Explorer 6.0 or higher on Windows XP, XP Professional
. Safari 1.2.4 on MAC
. Firefox Mozilla 1.0 on either Windows XP, XP Professional, MAC

The Proliphix Network Thermostats were designed specifically to communicate directly over the Internet using the Internet Protocol (IP). This capability allows the user to securely access, manage and control their thermostats from anywhere in the world with the use of common web browser.

To provide this Remote Management capability, Proliphix has invested significantly to develop a software application running on a secure and highly reliable web server which intercommunicates to registered Proliphix Thermostats on a periodic interval to ensure that each thermostat is "reachable" by any web browser throughout the internet.

Proliphix offers this Remote Management Service running on our Server Software as a FREE service to Proliphix authorized customers!

This Server Software provides user authentication, IP address independence and email alarm notification. After the user has authenticated as a registered Proliphix thermostat owner, the server communicates to the thermostat to open a secure channel between the user's web browser and the desired thermostat. Communication between the user and their thermostat can then be invoked by the user through the Remote Management GUI. The user simply clicks on links in the browser to access his/her thermostats with no knowledge of IP addressing.

Additionally, alarms or alerts detected at the thermostats are communicated immediately to the Proliphix web server application for processing. Notification of these alarms and exception conditions are then communicated to the user (or their agents) via email to either their cell phones or standard email accounts.

Features
-Supports Two Thermal Sensors
-Reliable TCP/IP Communications
-Web Browser Control Interface
-Flexible Time Scheduling
-Automated Email Reporting
?High Temperature
?Low Temperature
?Filter Change Reminder
-Failsafe Undertemperature Switch
-High Temperature Alarm
-Energy Star Compliant

Compatible with most HVAC Systems; Gas or oil furnace, gas or oil boiler, Hydronic Heating, Heat Pumps, Central Air Conditioning.

Specifications
-Operating Temperature: -10°C to 40°C
-Dimensions: 5.5" x 3.5" x 1.5"
-FCC, UL & EnergyStar approved.
Easy To Adjust
Easy To Install
Intuitive Controls
Precise Controls
Comments about Proliphix NT20e & EPA-20 Kit:
This IP network thermostat provides an embedded web server for simple standards based network communication and control. Why do all the other companies stick to old proprietary systems? The NT10 and NT20 are easy to install - the instructions are a bit terse but were enough for me to do it myself. The web interface to the units is straight forward and easy to use. I can control my thermostats from my iPhone! Great product.