Proliphix NT10e Programmable Internet Thermostat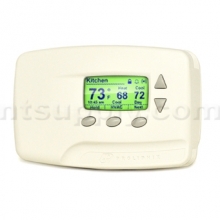 Click to Zoom
About This Thermostat
| | |
| --- | --- |
| MFG: | Proliphix |
| MFG#: | NT10e |
| Our#: | 110240 |
| Programmable: | Yes (7 day) |
| Stages: | 2H & 1C |
| System Compatibility: | Single Stage, Heat Pump |
| Power Options: | 24 VAC Hardwire |
| Heat/Cool Changeover: | Automatic or Manual |
| Programmable Fan: | No |
| Temperature Limits: | No |
| Keypad Lockout: | No |
| Backlight: | Yes |
| Vacation Hold: | Yes |
NOTE: This product requires an Ethernet Power Adaptor

Click here for 2-port Ethernet Power Adaptor
Click here for 6-port Ethernet Power Adaptor

A 21st Century Communicating Thermostat
Proliphix has taken the programmable and communicating thermostat into the 21st century by integrating it with the Internet. Proliphix Internet Thermostats can be connected via Ethernet to a home or small business network and each is able to serve up its own web pages allowing the user to control and monitor their thermostats using a standard web browser on any desktop or laptop computer. Since Proliphix uses Ethernet, there is no need for a separate proprietary wiring scheme and when used in conjunction with a broadband Internet connection its full potential will be realized.

Secure Monitoring and Control Over the Internet
Users can monitor and adjust the temperature settings of each thermostat in their home or office over an authenticated, secure Internet connection. Thermostats can be configured to send alerts to users in the event of failure or high/low temperature alarms. NT10 Internet Thermostats can be configured to send high or low temperature alerts by e-mail or text messaging. This feature allows users to avoid the cost of over-heating, and the potential damage of frozen pipes.


Features:
Single Stage Heat and A/C Support
Modes: Heat, Cool, Auto Changeover, Off
Fan Control - Manual, Auto, and on Heat
Fahrenheit/Celsius Support
Reliable TCP/IP Communications
Web Browser Control Interface with Secure Password Protection
Flexible Temperature Scheduling - 366 Day Programming
4 Temperature Periods per Day
Vacation and Special Day Schedules
Remote HVAC Management with Automated E-mail Reporting (High Temperature Alarm / Low Temperature Alarm / Filter Change Reminder)
Proliphix Network Powered
Failsafe Low Temperature Switch
Clear, Backlit Graphic LCD
ENERGY STAR Compliant
FREE subscription to Proliphix Remote Management Service.
Compatible with most HVAC Systems; Gas or oil furnace, gas or oil boiler, Hydronic Heating, Heat Pumps With Aux Heat, Central Air Conditioning.

Specifications:

-Operating Temperature: -10°C to 40°C
-Dimensions: 5.5" x 3.5" x 1.5"
-FCC, UL & EnergyStar approved.
- Warranty: 90 day Limited Warranty
Easy to adjust (12)
Simple controls (10)
Easy to install (9)
Intuitive controls (9)
Home (11)
Large rooms (3)
Office (3)
Reviewer Profile:
Homeowner (11), Avid do-it-yourselfer (5)
Easy To Adjust
Easy To Install
Precise Controls
Comments about Proliphix NT10e Programmable Internet Thermostat:
Although the hardware is well designed and fully functional, the software/firmware/web interface needs a little attention. Specifically, the web interface.

I typically install these units in summer homes, where the client needs to cool the house down before they arrive. I think that the web interface should offer the user a simple login screen followed by only the temperature adjustments for all of the users' devices, rather than the current 'screen o' numbers'. It's all perfectly functional now, but it just seems a bit overcomplicated when I explain to my client the steps required to change the temperature, and the fact that they have to do it for each device (some homes have 10 or 15 or more)

Reducing the amount of information on each web page would be a great start to reducing the clutter and confusion. The ability to change all of the devices at once is also high on my wish list.

If you only need one or 2 of these for your space, then the above issues are not a big deal. For systems with many zones however, it can take quite some time to go through each device, find the temperature adjustment page, change the temperature, submit the change, wait for the change to get accepted, then move on to the next one.
Easy To Adjust
Intuitive Controls
Precise Controls
Comments about Proliphix NT10e Programmable Internet Thermostat:
I installed two of these at a vacation home 1300 miles away. Wireless capability would make them perfect (although perhaps less reliable)- but as long as you can get a CAT-5 cable from the thermostat to your PC or router, you will be in business. All I need to do is log on and change the settings before I leave for the airport- and now arrive to a perfectly climate controlled home. The high/low temp email alert is a great feature as well.