ProThermostats.com
> LuxPro PSP711RF Programmable (7 day) 1 Heat/1 Cool Thermostat, Remote Controlled
LuxPro PSP711RF Programmable (7 day) 1 Heat/1 Cool Thermostat, Remote Controlled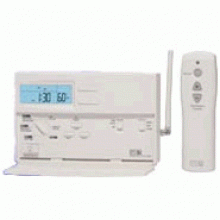 Click to Zoom
About This Thermostat
| | |
| --- | --- |
| MFG: | LuxPro |
| MFG#: | PSP711RF |
| Our#: | 101627 |
| Programmable: | Yes (7 day) |
| Stages: | 1H & 1C |
| System Compatibility: | Single Stage, Millivolt |
| Power Options: | 24 VAC Hardwire, Battery |
| Heat/Cool Changeover: | Manual |
| Programmable Fan: | No |
| Temperature Limits: | No |
| Keypad Lockout: | Yes |
| Backlight: | Yes |
| Vacation Hold: | Yes |
LuxPro PSP711RF Remote Controlled Thermostat
Single Stage Heat/Cool, Programmable

The PSP711RF can be used with most 24 volt gas, oil or electric heating and air conditioning systems, single stage heat pumps or gas millivolt heating
systems. It cannot be used with 3 wire zone valves, 120V systems, or multistage systems.

Features:
. Remote Controlled Temperature Control From Anywhere in House
. Easy Programming with LUX Speed Dial®
. 7 Day Programming - 4 Periods Per Day
. Smart Recovery
. Default ENERGY STAR® Approved Program
. Lighted Display
. Vacation Hold
. Keyboard Lockout
. 2 or 5 Minute Delay
. Temporary Temperature Override
. Fahrenheit or Celsius Temperature Display
. 12/24 Hour Clock

COMPATIBLE WITH:
. Low Voltage (24 Volt) Systems
. Single Stage Heat Pumps
. High Efficiency Systems
. Millivolt Systems (Wall Furnace)
. 1 Heat/1 Cool Heating and Air Conditioning Systems, Gas, Oil or Electric Heating Systems

NOT COMPATIBLE WITH:
. 2 Stage Heat Pump Systems
. 3 Wire Hot Water Systems
. 120/240 Line Voltage System

Specifications
Heat/Cool Terminals: RH, RC, O, B, W, Y, G.
Electrical Ratings: 1-1/2 AMPS at each terminal, 2 AMPS total 24v AC. System or Battery Powered: 2 "AA" Batteries .
Temperature Control Range: 45°F to 90°F (7° to 32°). Accuracy: ±1°F over a range of 50°F to 95°F.
Dimensions: 6 3/8" W X 4" H X 1 3/4" D
Environmental Limits:
Moisture and Dust: meets IP20.
Operating Humidity: 20% to 90% non-condensing.
Operating Temperature: +32°F to +95°F (+0°C to +35°C).
Storage Temperature: -4°F to +130°F (-20°C to +54°C).
Electrical Immunity: meets relevant CE specifications.
Easy To Adjust
Easy To Install
Intuitive Controls
Precise Controls
Central Controls
Homes
Large Rooms
Offices
Small Rooms
Comments about LuxPro PSP711RF Programmable (7 day) 1 Heat/1 Cool Thermostat, Remote Controlled:
We love this product and have two installed in our 4600 square foot home. It has made our life so much easier having the remote. It works great!