LuxPro PSP600 Programmable (5+1+1 day) 1 Heat/1 Cool Thermostat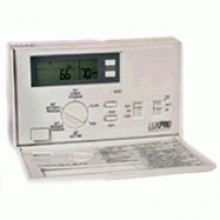 Click to Zoom
About This Thermostat
| | |
| --- | --- |
| MFG: | LuxPro |
| MFG#: | PSP600 |
| Our#: | 101619 |
| Programmable: | Yes (NULL) |
| System Compatibility: | Single Stage |
| Power Options: | 24 VAC Hardwire, Battery |
| Heat/Cool Changeover: | Manual |
| Programmable Fan: | No |
| Temperature Limits: | No |
| Keypad Lockout: | Yes |
| Backlight: | No |
| Vacation Hold: | No |
Battery powered, low voltage electronic setback heating and cooling thermostat with sealed relay contacts. Pre-programmed with four adjustable heating and cooling periods for weekdays. Preprogrammed with four adjustable heating programs and four adjustable cooling programs for weekends.

Features
-Energy Star certified
-Preprogrammed - up to 4 programs per day
-Separate programs for heating and cooling
-Battery powered: (4) " AAA" batteries included
-Weekday programming, individual Saturday and Sunday programming
-Easily reprogrammed with LUX Programming Dial
-Large Liquid crystal display
-Temperature swing adjustment allows comfortable numbers of heating or cooling cycles per hour
-5 minute air conditioning compressor delay
-Adjustable filter monitor (factory set at 250 hours) counts blower hours and advises need to change air filter. Monitor adjustable from 0 to 500 hours (may be disabled)
-Temporary and constant temperature override
-Display illuminates at the touch of Light Button
-Program Lock Feature

Compatible With
-Most 24v Gas, Oil, Electric Heating and Air Conditioning Systems
-2 wire hydronic systems
-Millivolt systems
-Single stage heat pumps
-Hydronic air handler systems

Non Compatible With
-Multi-stage heat pumps
-Multi-stage gas or oil furnaces
-120v heating systems
-3 wire hydronic systems

PSP600 Detailed Specifications
Replaces: TX1500 and TX1501 series.

Dimensions: 5-1/2" wide x 3-1/4" tall x 1-1/4" deep.

Electrical Ratings: 1-1/2 AMPS at 24v AC. Requires (4) "AAA" batteries(included)

Temperature Differential: + or - 1o factory preset differential adjustable from 1/4oF to 2-1/4oF.

Temperature Control Range: 45oF to 90oF (7oC to 32oC) - Celsius and 12/24 hour time capable.

Compatibilities: 2-5 wire single stage systems, forced air systems, 2 wire hydronic systems, hydronic air handling systems, and single stage heat pumps.

Terminals: G, Y, W, RH, B, O, RC. Solid pin connectors allow usage with both 24v and millivolt equipment.

Program Settings: 4 preset programs per day heating and cooling. All may be easily reprogrammed in 1o and 15 minute increments with LUX Programming Dial.

Compressor Protection: Built-in 5 minute time delay.

Filter Monitor: Monitor blower operation time to indicate need for change of filter at specified increments. Factory set at 250 hours and adjustable from 0 to 500 hours (may be disabled).

Program Lock Feature: Locks program so changes cannot be made without unlocking program.

Illuminated display: Display illuminated at the touch of Light Button.