White-Rodgers 1F95-1271 Programmable MultiStage/Heat Pump Thermostat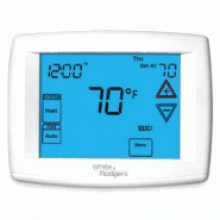 Click to Zoom
About This Thermostat
| | |
| --- | --- |
| MFG: | White-Rodgers |
| MFG#: | 1F95-1271 |
| Our#: | 101561 |
| Programmable: | Yes (NULL) |
| System Compatibility: | Heat Pump, Multi-Stage, Millivolt |
| Power Options: | 24 VAC Hardwire, Battery |
| Heat/Cool Changeover: | Automatic or Manual |
| Programmable Fan: | No |
| Temperature Limits: | Yes |
| Keypad Lockout: | Yes |
| Backlight: | Yes |
| Vacation Hold: | Yes |
White-Rodgers 1F95-1271 Thermostat -
REPLACED BY MODEL 1F95-1277
Single/Multi Stage/Heat Pump Heat/Cool, Programmable or Non-Programmable
Simple and logical installer menu set-up, programming and operation is enhanced by audio prompting that confirms touchscreen entries. Features like variable touchscreen security to prevent tampering, temporary and vacation overrides, and filter change reminders add convenience. Our +/- 1° temperature accuracy will keep your customers comfortable and protect their HVAC systems. 90 Series Blue is the result of smart, innovative thinking. Install 90 Series Blue with confidence because it's exclusively for the professional trade.
FEATURES
Programming;
Universal - installer selectable system
applications (1F95-1271)
Universal - choice of 7 day, 5/1/1 day
programmable or non-programmable (installer
selectable)
4 times and 4 temperature settings per program(2 setbacks) heat and cool, or selectable - 2 time and 2 temperature settings (1 setback)
Energy savings up to 33%
Patented pre-programmed schedule simplifies
time and temperature programming
Display:
Large, 12-square-inch touchscreen display -
largest in the industry
Blue, lighted display for easier low-light viewing
Larger, easy-to-read character size
Extra-large touch keys for easy operation
Clean, uncluttered touchscreen display provides
easier navigation
Performance:
Universal Dual-Powered - choice of
battery-powered or hardwired with
battery back-up
Selectable Energy Management Recovery
Meets ENERGY STAR® specifications
Meets California Building Code, Title 24
Fast (FA) or slow (SL) heating cycle anticipation
Easy-to-wire terminal block
B & O terminals
Compressor lockout protection
Millivolt compatible
Electric heat option
Comfort & Convenience:
Intuitive menu-driven set-up, programming and
operation, with audio prompt to confirm
touchscreen entries
Permanent program retention during power loss
Indefinite setpoint Hold or 4-hour temporary
temperature override
Temporary temperature override - can be set
from 15 minutes for Temporary adjustments up to
7 days for Vacation override
Auto heat/cool changeover option -
automatically switches between heating and
cooling programs
Heating and cooling, heating only or cooling only
configuration (installer selectable)
Setpoint temperature "limited range" capable
Enhanced (variable) touchscreen security
prevents tampering
Furnace filter change reminder
Humidifier pad change reminder
Maintains room temperature to within +/- 1°
Room temperature display can be recalibrated up
to +/- 4°
Specifics:
Dimensions
4.6"H x 5.9"W x 1.2"D
Thermal Specifications
Setpoint Temperature Range:
45° to 99° F (7° to 32° C)
Rated Differential:
Heat 0.6° F; Cool 1.2° F
Operating Ambient Temperature:
32° to 105° F (0° to 41° C)
Operating Humidity Range:
90% non-condensing maximum
Shipping Temperature Range:
-4° to 150° F (-20° to 65° C)
Electrical Specifications
Rating
Battery Power: mV to 30 VAC, NEC Class II,
50/60 HZ or DC
Input-Hardwire: 20 to 30 VAC
1.0 Amp (load per terminal)
1.5 Amps maximum load (all terminals
combined)
Standard Systems
Single Stage gas, oil, electric
Single Stage heat pump
Millivolt Systems
Multi-Stage gas, oil electric (1F95-1271)
Multi-Stage heat pump (1F95-1271)
Easy To Adjust
Easy To Install
Intuitive Controls
Central Controls
Homes
Large Rooms
Offices
Small Rooms
Comments about White-Rodgers 1F95-1271 Programmable MultiStage/Heat Pump Thermostat:
Great upstairs thermostat
Easy To Adjust
Easy To Install
Looks great
Comments about White-Rodgers 1F95-1271 Programmable MultiStage/Heat Pump Thermostat:
My father reccommended this thermostat and I am very satisfied with it. The display is set up nicely and easy to figure out (even without reading the whole manual).