ProThermostats.com
> Robertshaw 9520 Non-Programmable Heat Pump (2 Heat/2 Cool) Thermostat
Robertshaw 9520 Non-Programmable Heat Pump (2 Heat/2 Cool) Thermostat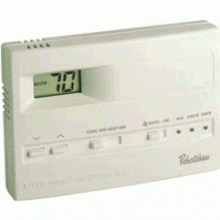 Click to Zoom
About This Thermostat
| | |
| --- | --- |
| MFG: | Robertshaw |
| MFG#: | 9520 |
| Our#: | 101112 |
| Programmable: | No |
| Stages: | 2H & 2C |
| System Compatibility: | Heat Pump |
| Power Options: | 24 VAC Hardwire |
| Heat/Cool Changeover: | Manual |
| Programmable Fan: | No |
| Temperature Limits: | No |
| Keypad Lockout: | No |
| Backlight: | No |
| Vacation Hold: | No |
REPLACED BY MODEL RS4220

Digital Value
The 9500 Series is the clear alternative to traditional mechanical thermostats. This modern design provides attractive and consistent temperature control. Reading the temperature is easy and accurate with our large LCD display. The 9500 and 9505 feature low temperature protection, which will automatically turn on the heat if the indoor temperature goes below 40°F. All models feature an adjustable temperature differential to meet customer specific preferences Because we believe in the quality of our products, we offer immediate assistance for consumers with product questions. Our toll-free technical assistance number is printed right on the thermostat.
Automatic Compressor Short Cycle Protection
A system safeguard. Reduces wear and tear of HVAC equipment.
Lighted System Status Indicators
Enables you to check system status at a glance.
Battery-Free Memory Storage
Even during power outages, the thermostat maintains setpoint and programmed parameters.
Adjustable 1st and 2nd Stage Temperature Differential

Maintains optimal customer comfort.
Toll-Free Assistance
Toll-Free Technical Service number printed right on the thermostat provides immediate assistance.
O & B Terminals
Greater system flexibility, zoning compatible.
Zone System Compatible
In zoning applications where temperature is precisely controlled, thermostat acts as a sensor within the system.
Quick Wire Terminal Block
Fast and easy installation. Uses sturdy wire clamps - no wrap-around of screws.
Specifications:
24 Volt AC (18-30 VAC)
1 amp maximum load per terminal
3 amp total maximum load
(all terminals combined)
Temperature control range:
45°- 90°F (7°- 32°C)
Accuracy: +/-1°F (+/-.5°C)
DC power: 3.0 Volt
System configurations:
Multi-stage heat pump systems - two
stage heat, two stage cool.
Terminations:
R, E, W2, Y1, Y2, O, B, G, L, C