ProThermostats.com
> Honeywell Digital LineVoltProT 7000 Non-Programmable Heat Only Thermostat
Honeywell Digital LineVoltProT 7000 Non-Programmable Heat Only Thermostat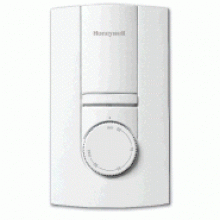 Click to Zoom
About This Thermostat
| | |
| --- | --- |
| MFG: | Honeywell |
| MFG#: | TL7230A1004 |
| Our#: | 101035 |
| Programmable: | No |
| Stages: | 1 Heat |
| System Compatibility: | Line Voltage |
| Power Options: | Hardwire, Power-Stealing |
| Heat/Cool Changeover: | None |
| Programmable Fan: | No |
| Temperature Limits: | Yes |
| Keypad Lockout: | No |
| Backlight: | No |
| Vacation Hold: | No |
NO LONGER AVAILABLE - REPLACED BY TL7235A1003
Honeywell Honeywell LineVoltProT 7000 TL7230A1004
NOTE: This is a "4-wire" Thermostat.
Honeywell's LineVoltPROT 7000 offers the simplicity and basic features of a conventional thermostat, with the added precision and comfort control of a Honeywell electronic thermostat. Its advanced technology minimizes temperature swings and keeps you consistently comfortable.
. Electronic temperature control - precision of ±1º F saves up to 10%* on heating bills.
. Easy temperature setting - with single control dial.
. Soundproofed for quiet operation - reduces the clicking noise commonly heard with conventional thermostats.
. On/Off switch allows you to turn the thermostat off at the end of the heating season.
. Temperature range stops - prevents user from setting the temperature too high or too low.
. Maintenance free - no batteries required.
. In the event of a power outage - these thermostat default to 70 degree setpoint
. 5-year limited warranty.
Features:
Electrical Ratings: 3120W @ 208V 15.0A
3600W @ 240V 15.0A
Switching Action: 4 wires / DPST
Quiet Operation: Yes (epoxy-soundproofed relays)
On/Off Switch
+/- 1°F Control
Warranty: 5 year
1°F Droop Control
4 5/8" H X 2 3/4" W 9/16" D
Setting Temperature Range (F) 59 F to 95 F
Setting Temperature Range (C) 15 C to 35 C
Specifications:
Application - Electric baseboards, convectors and fan forced heaters (resistive rated loads).
Mounting - Vertical
Color - Premier White®
Stages - 1Heat
Electrical Connections - 5.5 in. (140 mm) copper tinned leadwires
Switch Type - Relay
Switching Action - DPST
Accuracy (F) - ±1 F
Accuracy (C) - ±0.5 C
Dimensions (in.) - 4 7/8 in. high x 2 3/4 in. wide x 7/8 in. deep
Dimensions (mm) - 124 mm high x 70 mm wide x 23 mm deep
Minimum Temperature Setting (F) - Thermostat maintains 45 F when dial is set below 59 F.
Minimum Temperature Setting (C) - Thermostat maintains 7 C when dial is set below 15 C.
Comments about Honeywell Digital LineVoltProT 7000 Non-Programmable Heat Only Thermostat:
the picture you have for this thermistat must be wrong as i received a digital one, your picture is a dial.