ProThermostats.com
> Robertshaw 9920i Programmable Heat Pump Thermostat, with Fresh Air Control
Robertshaw 9920i Programmable Heat Pump Thermostat, with Fresh Air Control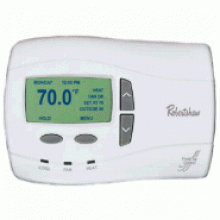 Click to Zoom
About This Thermostat
| | |
| --- | --- |
| MFG: | Robertshaw |
| MFG#: | 9920i |
| Our#: | 101028 |
| Programmable: | Yes (7 day, 5+2, 5+1+1 or 24 hr) |
| Stages: | 2H & 2C |
| System Compatibility: | Heat Pump |
| Power Options: | 24 VAC Hardwire |
| Heat/Cool Changeover: | Automatic or Manual |
| Programmable Fan: | Yes |
| Temperature Limits: | Yes |
| Keypad Lockout: | Yes |
| Backlight: | Yes |
| Vacation Hold: | Yes |
NO LONGER AVAILABLE - REPLACED BY MODEL 9825i2
Finally a commercial thermostat made with building operators in mind. Your customers will benefit from maximum comfort and energy savings.
The i-Series thermostats received the 2003 Frost & Sullivan award for simple, menu-driven programming that is similar to a cell phone. Plus you can set optimal fresh air control to meet ASHRAE Indoor Air Quality Standards. We have also added an adjustable purge control to bring in fresh air occasionally during periods of non-occupancy.
The 9920i is compatible with all standard 24 Volt AC heat pump system, up to two-stage heat and two-stage cool. We took the guesswork out and put simplicity in. It's programming made easy.
Bilingual Display Option
Set to your customer's unique lifestyle and language-English or Spanish.
Conversational Menus
Take programming step by step in plain, easy to understand language.
Convenient Displays
View a full day of programming at once for quick review or easy adjustment.
Contractor ID Feature
Set your name and phone number to remind customers when service is needed.
Integrated Fresh Air Control
Controls fresh air during occupancy along with programmable purge cycles during unoccupied periods. Operates as a dry contact or 24V option.
Worry-Free Memory Storage
Even during power outages, the thermostat maintains setpoint and programmed parameters.
Fully Programmable
7 day, 5/2, 5/1/1 or 24 hour programming menus.
Adjustable Events Per Day
2, 4 or 6 events per day for greater control of your customer's comfort.
High/Low Balance Point Control
When connected to the outdoor sensor, model 9025i, the thermostat can automatically control first and second stage activities with adjustable set points.
Selectable 2nd Stage Heating (Fossil Fuel Kit)
Choose internal auxiliary or a remote heating system.
Adjustable 1st and 2nd Stage Differential
Maintains optimal customer comfort.
Adjustable Timed Upstaging
Helps maintain optimal temperature or energy savings.
Remote Indoor and Outdoor Sensor Capable
For greater control of indoor comfort and system efficiency.
EERT (Energy Efficient Recovery)
Increases energy savings. EERTM allows gradual recovery from setback temperature to minimize use of auxiliary systems.
Easy To Adjust
Easy To Install
Intuitive Controls
Precise Controls
Residual fan control
Comments about Robertshaw 9920i Programmable Heat Pump Thermostat, with Fresh Air Control:
The residual fan control is really nice if you have units that do not internally control them. They're adjustable 30,60,90,120 so you can return some of the humidity to the home if you live somewhere dry like myself. Programming this unit is as good as it gets, this company was Maple Chase before I believe which had some of the most adjustable thermostats way back when. I'm very satisfied with this unit. I have 2 separate units on the house and adjust them for the seasons, I actually had 2 Honeywell units I bought to replace the Maple Chase units and they didn't have the residual fan control which was really annoying...
Easy To Adjust
Easy To Install
Intuitive Controls
Precise Controls
Comments about Robertshaw 9920i Programmable Heat Pump Thermostat, with Fresh Air Control:
My house had a more expensive, industrial RobertHunter thermostat, but it didn't have the control I was looking for. I bought this thermostat because it allowed for configuration of a few key items. The difference between the current temperature and commanded temperature before the 2nd stage heat could come on. It also allowed for a configurable delay before the 2nd stage heat could come on. This allowed a bit more control over the 1st and 2nd stage heating. I also got the two remote sensors one for outdoor and one for indoor. (9025i and 9020i). I like that the heating control can be based on either the thermostat or the remote sensor or an average of the two. The outdoor sensor can control whether the 2nd stage heat is allowed to come on in addition to preventing 1st stage heat from activating if it is too cold out. Great easy to read backlit display. It would be nice if it could be activated to read without entering a menu. I was a bit disapointed in the wiring labels between the two RobertHunters. There was a slight difference in the designation of the second stage heating wire. The old one called in E/W1 where the new 9020i called the the second stage W2 but it also had an E terminal. I mixed it up at first but later sorted it all out. Also the time is not battery backed so every time I disconnected the power I had to reset the time and date. It supposedly has an ability to save it for a few hours in the event of a power outage. All-in-all a great thermostat.