White-Rodgers 1F98EZ-1621 Wireless Thermostat System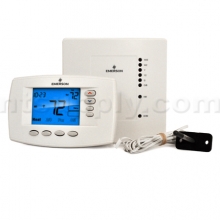 Click to Zoom
About This Thermostat
| | |
| --- | --- |
| MFG: | White-Rodgers |
| MFG#: | 1F98EZ-1621 |
| Our#: | 177179 |
| Programmable: | Yes (7-day or non-programmable) |
| Stages: | 4H & 2C |
| System Compatibility: | Single Stage, Multi-Stage, Heat Pump |
| Power Options: | 24 VAC Hardwire |
| Heat/Cool Changeover: | Automatic or Manual |
| Programmable Fan: | No |
| Temperature Limits: | Yes |
| Keypad Lockout: | Yes |
| Backlight: | Yes |
| Vacation Hold: | No |
White-Rodgers 1F98EZ-1621 Wireless Programmable Thermostat System

This innovative system takes advantage of the latest wireless technology and allows for the location of a thermostat where wires are difficult or impossible to run. The system consists of:

1). 6" Comfort Interface (Thermostat) which runs on batteries
2). Equipment Control Module, which is powered by 24V system transformer and wires to HVAC equipment
3). Return Air Sensor (RAS) - The RAS monitors temperature of the return air and is needed at all times for system operation

Features:


Universal - compatible with single and multi-stage, heat pump and heat pump with dual fuel applications
Premium Humidity Control
Easy-to-Read 6" Display on Comfort Interface
Ideal where pulling wires is difficult and additional temperature sensing is desired.
Color-coded LEDs on Equipment Control validates system wiring.
Comfort Interface and Equipment Control are paired at the factory - nothing to configure.
Wireless Sensor (F145RF-1600) is configurable for indoor or outdoor use. The thermostat displays the average of the local sensor and any indoor remote
sensors unless a device has been deactivated. The local sensor can be disabled so that only remote sensor values are used for control.
Easily Reduces Hot and Cold Spots in the Home
Comfort Interface and up to 3 wireless temperature sensors can be located in optimum control locations.
Maximizes Comfort with Premium Humidity Control
Set and control humidification and dehumidification right at the Comfort Interface.
Optimizes Efficiency on Heat Pump Systems with Dual Fuel Control
Choice of dual fuel control with wireless temperature sensor or by Dual Fuel Logic program in Comfort Interface.
Choice of 7 day or Ø day/non-programmable (installer selectable)
Choice of 4 or 2 program periods per dayPermanent program retention during power loss
Indefinite setpoint Hold or temporary temperature override
Auto heat/cool changeover option - automatically switches between heating and cooling programs
Heating and cooling, heating only or cooling only configuration
Setpoint temperature limits
Furnace filter change reminder
Humidifier pad change reminder
Maintains room temperature to within +/- 1° F
Room temperature display can be recalibrated up to +/- 5° F
Specifications:

Dimensions: 6.5"W x 4.3"H x 1.2"D - comfort interface / 6.5"W x 6.4"H x 1.4"D - equipment control module
Setpoint Temperature Range: 45° to 99° F (7° to 32° C)
Rated Differential: Heat 0.6° F; Cool 1.2° F
Operating Ambient Temperature: 1F98EZ-1621
14° to 131° F (-10° to 55° C) - comfort interface
-13° to 158° F (-25° to 70° C) - equipment control
Operating Humidity Range: 5-90% non-condensing maximum
Applications - Standard Systems, Single Stage gas, oil, electric, Single Stage heat pump, Multi-Stage gas, oil, electric, Multi-Stage heat pump
TERMINALS: R, Rc, Rh, C, W/E, Y, Y2, G, O/B, L, HM, HM2, DHM, DHM2
ProThermostats.com Price:
$319.59
Regular
$499.95
,
You Save $180.36 (36%)
In Stock
Shipping Details
Standard: 2-7 Business Days: Free!
Shipping fees listed are for a quantity of (1)