Easy Reader BLUE Universal Thermostat - 1F95EZ-0671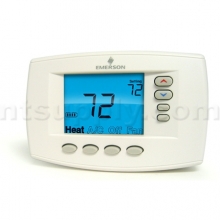 Click to Zoom
About This Thermostat
| | |
| --- | --- |
| MFG: | White-Rodgers |
| MFG#: | 1F95EZ-0671 |
| Our#: | 173927 |
| Programmable: | Yes (7 day OR non-programmable) |
| Stages: | 4H & 2C |
| System Compatibility: | Single Stage, Millivolt, Multi-Stage, Heat Pump |
| Power Options: | 24 VAC Hardwire, Battery |
| Heat/Cool Changeover: | Manual |
| Programmable Fan: | No |
| Temperature Limits: | Yes |
| Keypad Lockout: | No |
| Backlight: | Yes |
| Vacation Hold: | No |
Emerson BLUE Easy Reader Universal Thermostat

CLICK HERE FOR EASY READER INTERACTIVE DEMO!



Save up to $250 per year by using a programmable thermostat!



The Emerson / White-Rodgers BLUE Easy Reader Thermostat can be operated at a glance. And research has shown that many consumers, including the 78 million baby boomers in the United States, have expressed a clear preference for easy-to-operate, easy-to-read thermostats.

More and more homeowners in the 50+ age group are requesting thermostats with larger, easier to read displays and overall simple operation. And they are asking for simplicity. Consumers want one-button operation. One button to select heat or cooling. One button to set the temperature.

The Blue Easy Reader thermostat includes a six-square-inch back display with large one-inch characters for communicating room temperature, and half-inch characters for other communications, allowing for simple operation.

The large characters and one-button, one-function operation make it simple to set or adjust. And the lighted 6-inch display makes it even easier to operate in low light areas.


Features:

Homeowner-specified names on buttons - created from surveying real homeowners!
Simple to follow homeowner manual
Soft-touch key pad with large control buttons with one function/one button selections
Simple menu options
Ships in easy-to-use non-programmable setting with 7-Day programming option available
Universal - controls up to 4 Stages Heat / 2 Stages Cool
Programmable Temperature Setpoint Limits - Prevent Unreasonable Temp Setpoints
Dual Fuel Capable
Dual Power Capable - choice of battery-powered with optional power-stealing assist or hardwired with battery backup
Meets EnergyStar specifications
Fast (FA) or Slow (SL) heating cyle anticipation
Compressor Lockout Protection
Milivolt Compatible
Electric Heat Option
Intuitive menu-driven setup, programming, and operation with audio prompt to confirm entries
Permanent Program retention during power loss
Indefinate setpoint hold or temporary temperature override - will override temperature for 2 hours
Heating and Cooling, heat only, or cool only configuration (installer selectable)
Setpoint limited range capabilities
Room temperature display can be calibrated + / - 4 degrees
Works with:
Single Stage Gas, Oil, Electric Systems
Single Stage Heat Pump Systems
Millivolt Systems
Multi-Stage Gas, Oil, Electric Systems
Multi-Stage Heat Pump Systems

Terminals: RC, RH, C, W/E, W2, Y, Y2, G, O/B, 6, L
Dimensions: 4.2" H X 6.4" W X 1.7" D


ProThermostats.com Price:
$118.43
In Stock
Shipping Details
Standard: 2-7 Business Days: Free!
Shipping fees listed are for a quantity of (1)