White-Rodgers Easy Set Thermostat - 1F86EZ-0251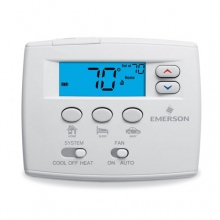 Click to Zoom
About This Thermostat
| | |
| --- | --- |
| MFG: | White-Rodgers |
| MFG#: | 1F86EZ-0251 |
| Our#: | 176744 |
| Programmable: | No |
| Stages: | 1H & 1C |
| System Compatibility: | Single Stage, Millivolt |
| Power Options: | Battery, 24 VAC Hardwire |
| Heat/Cool Changeover: | Manual |
| Programmable Fan: | No |
| Temperature Limits: | No |
| Keypad Lockout: | No |
| Backlight: | Yes |
| Vacation Hold: | No |
White-Rodgers Easy Set Thermostat - 1F86EZ-0251 - Non-Programmable with 3 Temperature Presets: Home - Sleep - Away

The Easy Set is designed to be the easiest thermostat you have ever used. This thermostat features Home, Sleep, and Away temperature pre-sets. Just press the button and go. Included with the easy set is the same temperature accuracy and reliability you expect from all the Emerson Blue thermostats.



How to use the Easy Set Thermostat:
You can set your (Home, Sleep, Away) temperatures for use when you get home, go to sleep, or leave home. Then, just press the button you want and go. You can use factory pre-sets or change to different temperature pre-sets. Factory presets are:
HOME - 70 F Heating / 75 F Cooling
SLEEP - 62 F Heating / 78 F Cooling
AWAY - 62 F Heating / 83 F Cooling
FEATURES:
2-square-inch BlueT display with easy-to-see characters
Easy-to-read LCD with improved contrast
Lighted display for easier low-light viewing
Exclusive Cool SavingsT feature saves energy during peak A/C demand periods
Long battery life - uses 2 "AA" alkaline batteries (included)
Battery power monitor
Exclusive sleep timer
Permanent pre-set retention during power loss
Permanent Hold
Simple "setup" menu to activate optional features
Temporary sleep timer
Soft-touch keypad
Display temperature recalibration (+/- 4°)
Easy access battery compartment
Dual-Powered.choice of battery-powered or hardwired, for all applications
Fast (FA) or slow (SL) heating cycle anticipation
Easy-to-wire push-connect color coded terminals
Compressor lockout protection
Electric heat option
5-year warranty
System Compatibility:
Single Stage gas, oil, electric
Single Stage heat pump
Millivolt Systems
Will not control 3-wire hydronic heating or 120/240 Volt heating

SPECIFICATIONS:
Dimensions - 4.8"W x 3.8"H x 1.5"D
0 to 30 VAC, 50/60 Hz or DC
0.05 to 1.5 Amps (load per terminal)
1.5 Amps maximum load (all terminals combined)
Setpoint Temperature Range: 45° to 90° F (7° to 32° C)
BlueT 2" Series Rated Differential: 0.6° to 1.7° F with adjustable anticipation
Terminals: R C O/B W Y G
ProThermostats.com Price:
$76.07
In Stock
Shipping Details
Standard: 2-7 Business Days: Free!
Shipping fees listed are for a quantity of (1)