Venstar Add-A-Wireless Thermostat - T1119RF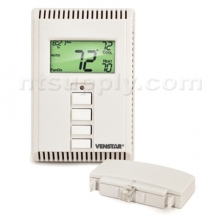 Click to Zoom
About This Thermostat
| | |
| --- | --- |
| MFG: | Venstar |
| MFG#: | T1119RF |
| Our#: | 177092 |
| Programmable: | Yes (7 Day) |
| Stages: | 2H & 2C |
| System Compatibility: | Multi-Stage,Heat Pump,Single Stage |
| Power Options: | Battery |
| Heat/Cool Changeover: | Automatic or Manual |
| Programmable Fan: | No |
| Temperature Limits: | No |
| Keypad Lockout: | Yes |
| Backlight: | Yes |
| Vacation Hold: | No |
Venstar Add-A-Wireless Thermostat - T1119RF

The T1119RF allows you to add a wireless thermostat to your existing Venstar model T1800 or T1900 thermostat. NOTE: This product will only work with the T1800 and T1900 thermostats, which are sold separately.

The T1119RF kit consists of:
(1) T1100RF Thermosat
(1) Plug-In Wireless Module

This accessory will allow you to control your T1800 or T1900 thermostat from any location in your home using the handheld T1100RF Wireless thermostat.

Operation is simple! When a button is pressed on the T1100RF it will take complete control of the thermostat. From the T1100RF you can change the mode of your thermostat, turn the fan on, and even engergize your heating and cooling system. To transfer control back to the T1800 or T1900 thermostat, press any button on that thermostats keypad (except for the outside button).

FEATURES:
Transmits through walls and floors - range up to 500 feet in clear air
Transmits at 418MHz using pulse code modulation - won't interfere with other wireless systems
Uses two AA lithium batteries
7 day programmable with 4 time periods per day and copy command
Large, easy to read display with ThermaglowT backlight
64 house codes allow installation of up to 64 systems within transmit range
Thermostat includes tilt-out stand for table mounting
7 Day Programmable with 4 time periods per day
Copy command
Holiday mode
1 Year Warranty
Thermostat is 4.75" H X 3.25" W
Receiver is 3.25" H X 4.75" W
Uses 2 AA Lithium Batteries (included)
Comments about Venstar Add-A-Wireless Thermostat - T1119RF:
This product meets my need of a wireless portable thermostat for an upstairs room, but it lacks refinement.

My main areas of complainant are:

1) Confusing controls, this unit could really use a couple more buttons to make setting the unit more intuitive.

2) No obvious indicator that the wireless unit has control of the HVAC system.

3) Lack of wireless strength indicator, while the 415 MHz communication frequency probably does a good job of reaching most parts of a standard size house, I think it is unforgivable that there is no way to see the connection strength.