Skuttle SEH-7100-000 Automatic Humidistat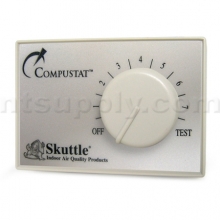 Click to Zoom
About This Product
| | |
| --- | --- |
| MFG: | Skuttle |
| MFG#: | SEH-7100-000 |
| Our#: | 112320 |
The Skuttle Model SEH-7100-000 electronic humidistat accommodates all Skuttle (and major other brands) central-system humidifiers. While designed to operate automatically, it can also be installed for manual operation.

REQUIRES 24 VAC Power Source

Features:
Automatic adjustment of your home's relative humidity (RH) based on the outdoor temperature and your preferred level of comfort.
Continuous protection of your home and furnishings against the damaging effects of dry or overly-humidified indoor air.
Strong defense against "sick house" conditions that cause or aggravate allergies, colds, flu and respiratory aliments.
Solid-state components for safer, more reliable operation.
Out-of-the-way installation. Mounts on the return air duct; eliminates unsightly wall-mounting and the chore of fishing wires through walls.
Worry-free operation. Just set it and forget it to maintain a constant, comfortable level of humidity throughout the heating season.
Safety-conscious design. Does not intrude into the air duct; exposed materials and components are UV resistant.
Optional manual installation to let you fine-tune indoor humidity at the turn of a dial.
Includes:
outdoor temperature sensor
Sensor Sheild
Manual Mode Faceplate
Mounting template
Dimensions
: 4 1/8" W X 2 3/4" H X 1 3/8" D
Reviewer Profile:
Homeowner (5)
Comments about Skuttle SEH-7100-000 Automatic Humidistat:
Didn't trust the stat installed when I built and non compensating anyway. Have had trouble with condensation in attic. Followed directions in manual. Added extensions to thermistor leads (soldered). Mounted Skuttle unit in air return, little bit of metal work. Original upstairs stat left in place to use as on / off, just wired in series with the solenoid and do off & max setting. Had to use drum circuit setup. Now set at 5.5 on automatic and forget. Advise caution in working with the unit as the plastic case is not too strong and could be cracked if handled roughly.
Durable
Energy Efficient
Good Fit
Long Lasting
Comments about Skuttle SEH-7100-000 Automatic Humidistat:
The humidistat came with very easy to read instructions and installed in minutes.
Comments about Skuttle SEH-7100-000 Automatic Humidistat:
Had it wired incorrectly. [...]
Easy to install
Energy Efficient
Comments about Skuttle SEH-7100-000 Automatic Humidistat:
Great way to automatically control the humidity in the house with varying outside temps.
Comments about Skuttle SEH-7100-000 Automatic Humidistat:
The unit was easy to install with clear instructions; the outdoor temperature wire is only ~ 8 feet (the instructions says you can go thrity feet) ... I spliced 12 feet of same gauge wire to go 20feet; unit works ok .. keeps normal humidity, but I have to set at 0.5 on the 1 to 8 scale ... so I cannot go any lower without hitting 'off'