Robertshaw RS4220 Multistage Digital Non-Programmable Thermostat - 2 Heat / 2 Cool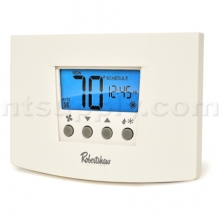 Click to Zoom
About This Thermostat
| | |
| --- | --- |
| MFG: | Robertshaw |
| MFG#: | RS4220 |
| Our#: | 172269 |
| Programmable: | No |
| Stages: | 2H & 2C |
| System Compatibility: | Heat Pump, Multi-Stage |
| Power Options: | 24 VAC Hardwire, Millivolt |
| Heat/Cool Changeover: | Automatic or Manual |
| Programmable Fan: | No |
| Temperature Limits: | Yes |
| Keypad Lockout: | Yes |
| Backlight: | Yes |
Robertshaw RS4220 Multistage Digital Non-Programmable Thermostat - 2 Heat / 2 Cool . Replaces number 9420.

- The Robertshaw® RS4000 thermostat family is Simply the Right Choice when it comes to automated temperature controls. With the comfort, convenience, and efficiency features that homeowners and contractors want, the RS4000 family provides custom program options in value-packed thermostats for an affordable price. Quick connect wiring feature to save up to 15 minutes on every installation.
- Pop-up Wizard to customize thermostat settings with an instant start-up menu.
- Fully adjustable differentials to maintain optimal heating and cooling comfort year-round.

All RS4000 thermostats are fully compatible with all standard 24V AC heating and cooling systems. Additional compatibility with multi-stage gas/electric furnaces and heat pump systems is available in the RS4220 model. Add in easy installation, Contractor ID option, and quality you can depend on, and you have the Robertshaw RS4000 thermostat family - Simply the Right Choice.

The Robertshaw 4000 family of thermostats is designed to control gas, electric, oil, heat pump, and millivolt heating and electric cooling systems. The RS4220 is a two-stage thermostat. The RS4000 thermostats are non-programmable and operate on a single setpoint.
The thermostats will operate using 24V AC or two AA batteries. When the two AA batteries are installed the thermostat will continue to run if the 24V AC fails.
FEATURES:

. Pop-Up Wizard
. Automatic changeover
. Circulating Fan
. Worry-Free memory retention
. Easy change battery
. Large back lit display
. Filter change reminder
. Low battery indicator
. Fahrenheit and Celsius displays
. Dual power
. Adjustable 1st stage temperature differential: 0.5 F Degrees to 3.0 F Degrees (0.5 C Degrees to 1.5 C Degrees)
. Accuracy within ±1 F Degree
. Universal staging on multi-stage units
. Automatic heating shutdown if temperature exceeds 99°F (37°C)
. Keypad security lockout
. User settable Hi and Lo temperature limits

SPECIFICATIONS:
Terminals - RH/R, RC, C, G, B, O, Y1, W1, Y2
Staging/Application - Universal Control up to 2 Heat / 2 Cool
Power Source - 24V AC with battery back-up OR 3.0V DC
Maximum Load - 1 amp maximum load per terminal
Dimensions - 5-1/4 x 3-3/4 x 1-3/16
Easy To Adjust
Easy To Install
Installed easily
Comments about Robertshaw RS4220 Multistage Digital Non-Programmable Thermostat - 2 Heat / 2 Cool:
The only difficulty was getting it setup. Not hard, but a step by step would have helped.