Robertshaw RS3110 Digital Programmable Thermostat - 1 Heat / 1 Cool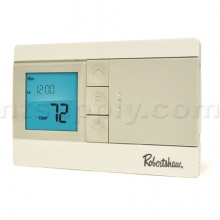 Click to Zoom
About This Thermostat
| | |
| --- | --- |
| MFG: | Robertshaw |
| MFG#: | RS3110 |
| Our#: | 172265 |
| Programmable: | Yes (5+2) |
| Stages: | 1H & 1C |
| System Compatibility: | Single Stage, Millivolt |
| Power Options: | Battery |
| Heat/Cool Changeover: | Manual |
| Programmable Fan: | No |
| Backlight: | Yes |
Robertshaw 3110 Digital Programmable Thermostat - 1 Heat / 1 Cool. The Robertshaw« RS3000 thermostat family is Simply The Right Choice when it comes to programmable temperature control that can help reduce energy costs up to 25%. With the comfort, convenience, and efficiency features that homeowners and contractors want, the RS3000 family provides custom program options in value-packed thermostats for an economical price.

FEATURES:
- Simple touch button controls to set weekly programs for summer and winter.
- Automated temperature settings for increased heating/cooling comfort.
- Worry-free memory retention to maintain temperature settings even during power outages.
- 5 + 2 programming with 4 program periods per day.
- Auto recovery - calculates how early to turn your system back on, so the room temperature is comfortable by the start of the comforttemperature program period. Auto Recovery works in both heat and cool modes.
- Bigger brighter backlight makes it easy to read any time of the day.
- The front load battery door makes it simple to replace the batteries.
- All RS2000 thermostats are fully compatible with all standard 24V AC heating and cooling systems.
- Low battery indicator
- Filter change reminder
- Mechanical Heat Backup This thermostat includes a bimetal switch that will automatically turn on the Heat when the temperature reaches about 41║F (5║C). WARNING: This switch only activates the heating terminal (W). The system itself must be capable of automatically turning the fan on. Without normal fan operation, severe damage to the heating system could result.
- Adjustable differential - thermostat is set at the factory to cycle at 2║F (1║C) above and below the set temperature (DIFF = 2). This setting has been designed to provide a comfortable room temperature under most conditions. However, if you find your system cycling too fast or too slow, then the DIFF can be adjusted to modify the cycle time.
- Compressor protection

Compatible with the following heating / cooling systems:
. Gas - Standing Pilot
. Gas - Electronic Ignition
. Gas - Fired Boilers
. Gas - Millivolt Systems
. Oil - Fired Boilers
. Oil - Fired Furnace
. Single Stage Heat Pumps - with no auxiliary heat
. Electric Furnace
. Electric Air Conditioning
Power Source - 3.0V DC (2 AA alkaline batteries, included)
Terminals - G, RC, RH, Y/O, W/B, Y1
Temperature Range - 45 - 95 Degrees F
Dimensions - 5-1/2 x 4-11/16 x 1-1/8


Merchant Services
ProThermostats.com Price:
$48.88
In Stock
Standard: 2-7 Business Days: Free!
Shipping fees listed are for a quantity of (1)