Robertshaw 9825i2 Programmable MultiStage Thermostat With Humidity Control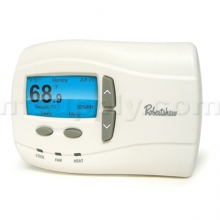 Click to Zoom
About This Thermostat
| | |
| --- | --- |
| MFG: | Robertshaw |
| MFG#: | 9825i2 |
| Our#: | 172950 |
| Programmable: | Yes (7 day, 5+2, 5+1+1 or 24 hr) |
| Stages: | 2H & 2C |
| System Compatibility: | Multi-Stage |
| Power Options: | 24 VAC Hardwire |
| Heat/Cool Changeover: | Automatic or Manual |
| Programmable Fan: | Yes |
| Temperature Limits: | Yes |
| Keypad Lockout: | Yes |
| Backlight: | Yes |
| Vacation Hold: | Yes |
Replaces 9865i , 9820i, 9920i

The new Robertshaw® 9825i2 thermostat makes controlling your comfort even easier. We've combined humidity and temperature control in one easy to install, easy to program thermostat. This versatile thermostat provides control over both humidification and dehumidification.

When used in conjunction with our 9025i outdoor sensor, the 9825i2 automatically controls indoor humidity levels maintaining optimal comfort while minimizing condensation on windows. You will enjoy maximum comfort and energy savings and you will benefit from the time and effort saved by installing a single device that does the work of two.

The new Setup Wizard allows you to spend 50% less time setting up the thermostat over competitive models. Everything is in plain language so there are no complicated codes or button combinations to memorize. Plus with our new universal design, one unit does the job of many saving time and money.

The new 9825i2 is so user friendly it sets a higher standard in efficiency and simplicity for programmable thermostats. It is truly comfort made even easier.

The "i2" series thermostats include the following enhancements not found in older "i" series thermostats:

Set-up Wizard
Helps speed through the installation process with step-by-step setup and programming instructions
Adjustable Backlighting
Choose to have backlighting on at all times or only when programming. You can also adjust the brightness and contrast for improved readability.
Time of Day Zoning
When coupled with a remote sensor (part #9020i), you can control the temperature in remote locations given different scheduled events.
Three Levels of Security
Secure protection against unwanted changes to the programming menus, temperature or set-up functions with your own 4-digit PIN.
SPECIFICATIONS:

Electrical rating: 24 Volt AC (18-30 VAC)
1 amp maximum load per terminal (relay outputs)
4 amp total maximum load (all terminals combined)
Temperature control range: 45°- 90°F (7°- 32°C)
Accuracy: +/-1.0°F (+/-0.5°C)
Power Source: 24 VAC
Auto Changeover deadband: Selectable 2° to 8°F
Temporary temperature override: From 10 minutes to 365 days
Remote sensor capable: 1 indoor and 1 outdoor sensor
System configurations: Multi-stage gas, oil or electric
heating/cooling systems
Terminations: OS, IS, C, G, Y1, B, E/W1, O, R, W2, Y2, L, H, D
ProThermostats.com Price:
$147.90
In Stock
Shipping Details
Standard: 2-7 Business Days: Free!
Shipping fees listed are for a quantity of (1)