Robertshaw 9725i2 Programmable Multistage Hardwired Thermostat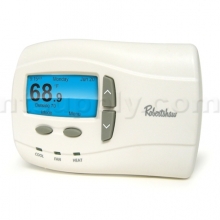 Click to Zoom
About This Thermostat
| | |
| --- | --- |
| MFG: | Robertshaw |
| MFG#: | 9725i2 |
| Our#: | 111591 |
| Programmable: | Yes (7-Day, 5+2, 5+1+1 or 24 hr) |
| Stages: | 3H & 2C |
| System Compatibility: | Multi-Stage, Heat Pump |
| Power Options: | 24 VAC Hardwire |
| Heat/Cool Changeover: | Automatic or Manual |
| Programmable Fan: | Yes |
| Temperature Limits: | Yes |
| Keypad Lockout: | Yes |
| Backlight: | Yes |
| Vacation Hold: | Yes |
The new 9725i2 makes installation even easier with our new Setup Wizard. The Setup Wizard allows you to spend 50% less time setting up the thermostat over competitive models. Plus everything is in plain language so there are no complicated codes or button combinations to memorize.
We've also made programming even easier for your customers. Menus are easier to navigate. We've even added additional convenience features such as Automated Time adjustment for Daylight Saving Time, along with new indoor air quality reminders.
The new 9725i2 is so user friendly, it sets a higher standard in efficiency and simplicity for programmable thermostats. It is truly programming made even easier.

** replaces both the 9715i and 9720i

Features and Benefits

* Set-up Wizard
Helps speed through the installation process with step-by-step setup and programming instructions.
* Trilingual Display Option
Set to your customers' language of choice - English, Spanish or French
* Convenient Displays
View a full day of programming at once for quick review or easy adjustment.
* Daylight Saving Time Adjustment
Automatically adjusts to correct time regardless of seasonal changes.
* Adjustable Backlighting
Choose to have backlighting on at all times or only when programming. You can also adjust the brightness and contrast for improved readability.
* Time of Day Zoning
When coupled with a remote sensor (part #9020i), you can control the temperature in remote locations given different scheduled events.
* Three Levels of Security
Secure protection against unwanted changes to the programming menus, temperature or set-up functions with your own 4-digit PIN.
* Auto Changeover
Automatically adjusts between heating and cooling cycles to maintain optimal comfort.
* Worry-Free Memory Storage
Even during power outages, the thermostat maintains set point and programmed parameters.
* Adjustable Temperature Offset
Change the displayed temperature from the actual sensed temperature.
* Adjustable Temperature Differential
Maintains optimal customer comfort.
* Intermittent Fan
Maintains optimal air filtration and circulation with minimal energy use.

3 Heat / 2 Cool with Auto Changeover
. Compatible with multi-stage gas, oil or electric
heating/cooling systems
. 7-Day, 5-2, 5-1-1 or 24 hour programming
. 2, 4 or 6 events per day
. Worry-Free Memory Storage
. Indoor/Outdoor Remote Sensor Capable
Terminals: R, E/W1, W2, Y1, Y2, B, O, G, C, IS, OS, L
ProThermostats.com Price:
$149.95
In Stock
Shipping Details
Standard: 2-7 Business Days: Free!
Shipping fees listed are for a quantity of (1)
Easy to adjust (4)
Easy to install (4)
Intuitive controls (4)
Reviewer Profile:
Homeowner (3), Professional (3)
Easy To Adjust
Easy To Install
Intuitive Controls
Comments about Robertshaw 9725i2 Programmable Multistage Hardwired Thermostat:
The time setting on the 2nd stage heater (heat strips on a heat pump, in my case) turns on the extra heat if the temperature doesn't change by 1 degree in that time period. This is not explained in the manual and effectively negates the reason for the temperature differential on the 2nd stage. Otherwise, a great thermostat - easy to understand and use.
Easy To Adjust
Easy To Install
Intuitive Controls
Precise Controls
Comments about Robertshaw 9725i2 Programmable Multistage Hardwired Thermostat:
This is the only thermostat I could find that would allow me to adjust all stages of heat and cool. it is terribly easy to set up and the robert shaw customer service is very knowledgable, they don't just read from a computer screen [...]
Easy To Adjust
Easy To Install
Intuitive Controls
Comments about Robertshaw 9725i2 Programmable Multistage Hardwired Thermostat:
The security feature alone is worth the cost for this thermostat. In our busy restaurants, our employees were always playing with the thermostats. Now with autochangeover between AC and heat, and a security code to keep menacing fingers out, we are saving big $$$
Easy To Adjust
Easy To Install
Intuitive Controls
Precise Controls
Comments about Robertshaw 9725i2 Programmable Multistage Hardwired Thermostat:
I replaced a Honeywell programable unit with this thermostat. The Honeywell was too sensitive (+ - 1/2 deg.)and short cycled. The R.S. hi - low temp range is adjustable for better control & efficiency. Still looking for a way to control fan run time after a heat event is completed (big house with lots of duct so I would like to get the heat purged before it shuts down.)