Robertshaw 9204V Mechanical Heat Only Thermostat, Vertical Mount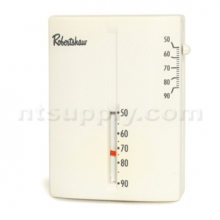 Click to Zoom
About This Thermostat
| | |
| --- | --- |
| MFG: | Robertshaw |
| MFG#: | 9204V |
| Our#: | 101122 |
| Programmable: | No |
| Stages: | 1 Heat |
| System Compatibility: | Heat Only, Millivolt |
| Power Options: | N/A |
| Heat/Cool Changeover: | Automatic or Manual |
| Programmable Fan: | No |
| Temperature Limits: | No |
| Keypad Lockout: | No |
| Backlight: | No |
| Vacation Hold: | No |
The 9200 Series Low Voltage Thermostats combine the reliable sealed-in-glass mercury free switch with the latest design technology contemporary looks in vertical and horizontal models. Compatible with most heating and/or cooling applications including single stage heat pumps and electrical heat. No subbase is required and they will mount directly to the wall or on a standard J-Box. The 24 volt models are equipped with a wide range heat anticipator which allows greater replacement possibilities.

Heavy Duty Adjustable Heat Anticipator
More anticipation settings to choose from allows use on a wider range of heating equipment.

No sub-base required
Simple base and cover design speeds installation. Base can be mounted on wall, freeing both hands for wiring.

Mercury-Free
No leveling required. Speeds up installation time.

J-Box Compatible
Not only will it meet code, but it speeds up installation.

Positive-Off Switch
Assured shutdown of HVAC system (9205).

Fixed Cooling Anticipation
Maintains optimal cooling comfort (9206).
Specifications:
Electrical rating 24 Volt application: 24 volt, 30 VAC, 1.6 amp max.
Electrical rating Millivolt application: 250-750 millivolts (Thermostat comes set for 24 volt, anticipator must be adjusted for millivolt use)
Anticipation 24 volt models: .2 to 1.6 amps
Factory setting: .6 amps
Cooling anticipation fixed: 4700 ohms
Temperature range: 50° to 90°F (10° to 32°C)
Differential: +/-2°F
Dimensions: 4-1/2" W X 3-1/4" H X 1-5/8" D
Terminations: W, Rh