Robertshaw 9020i Remote Indoor Sensor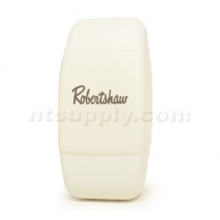 Click to Zoom
About This Product
| | |
| --- | --- |
| MFG: | Robertshaw |
| MFG#: | 9020i |
| Our#: | 101123 |
Robertshaw 9020i Remote Indoor Temperature Sensor is used with the 9700i and 9800i Series Robertshaw thermostats.

The sensor will sense air temperature at a remote location and send this information to the thermostat. Once connected, the thermostat responds only to the temperature sensed by the indoor sensor or by averaging the reading between the thermostat and the remote sensor.

Maximum Distance from Thermostat:
330'

Recommended Wire:
22AWG Minimum, sheilded or non-shielded 2 conductor twisted pair.
Reviewer Profile:
Homeowner (3)
Accurate
A must
Easy To Adjust
Precise Controls
Central Controls
Homes
Large Rooms
Offices
Comments about Robertshaw 9020i Remote Indoor Sensor:
The summer and winter times have always sucked (I live in Phoenix, AZ) because my bedroom in every house I lived in was always too hot or too cold while the system ran or before it would kick on because the temp was very different from the thermostat location. It was always so extreme, never comfy at the peaks of the seasons.

I installed this sensor in the room but not by the vent so it gets ambient temp, and found there is an average of 2-7 degrees difference from the main unit in the hallway to my room (about 12 feet) and that's with the units off. With them on I'm sure it can go all the way up to 12-15. I knew it was bad but not that bad!

Now the system temp is based off my room and not the hallway and life is beautiful when laying in bed. The temps from main unit to sensor are more even now too. I sleep better and I'm more lazy :D

Lastly, the main Robert Shaw thermostat is highly accurate and my system runs about 1/4 less than before using the +2 degree difference setting so summer and winter bills are lookin good too. Definitely buying one of these for the living room for the other thermostat now!
Comments about Robertshaw 9020i Remote Indoor Sensor:
This remote sensor worked without a single problem. I even installed it using the existing thermostat wire instead of the recommended twisted pair, but it still worked without a problem.
Comments about Robertshaw 9020i Remote Indoor Sensor:
Sensor placed in child's room because location of thermostat is drafty. Provides accurate readings to the main thermostat which controls the temp perfectly.