Pro1IAQ Model T755S Universal Programmable Thermostat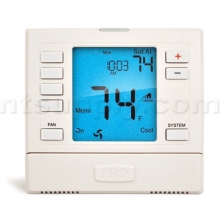 Click to Zoom
About This Thermostat
| | |
| --- | --- |
| MFG: | Pro1IAQ |
| MFG#: | T755S |
| Our#: | 177150 |
| Programmable: | Yes (5+1+1 or Non-Programmable) |
| Stages: | 3H & 2C |
| System Compatibility: | Single Stage, Millivolt, Multi-Stage, Heat Pump |
| Power Options: | Battery, 24 VAC Hardwire |
| Heat/Cool Changeover: | Automatic or Manual |
| Programmable Fan: | Yes |
| Temperature Limits: | Yes |
| Keypad Lockout: | No |
| Backlight: | Yes |
| Vacation Hold: | No |
Pro1IAQ Model T755S Universal Programmable Thermostat
A great multistage thermostat at a value price - choose from 5+1+1 day program or non-programmable. Packed with features and designed to keep you comfortable. Works with optional remote indoor sensor (R251S) for remote sensing or averaging and works with optional remote outdoor sensor (R250S) to display outdoor temperature or establish balance point for dual fuel systems. NOTE: This thermostat supports either an indoor sensor OR and outdoor sensor but not both. R250S can also be used as an in-floor slab sensor for radiant floor heat applications.

FEATURES:
5/1/1 programmable or non-programmable
Easy menu driven programming
Compatible with indoor remote sensor (
R251S
)
Compatible with outdoor/slab remote sensor (
R250S
)
Set dual fuel balance points (requires
R250S
outdoor sensor)
Intuitive wake, leave, return, sleep programming icons
6 sq. inch display
Blue backlight
Glow in the dark light button
Easy access battery compartment
Electric or Gas configurable
Separate heating and cooling swing (cycle rate) adjustments
Filter change indicator (selectable on or off)
Room temperature calibration adjustment
5 minute compressor delay protection (selectable on or off)
Simple private label badge system
Easy wire color coded terminal blocks
Universal sub-base
Mounts on wall or junction box
Battery or 24v power
5 year warranty
SPECIFICATIONS:

The display range of temperature - 41ºF to 95ºF (5ºC to 35ºC)
The control range of temperature - 44ºF to 90ºF (7ºC to 32ºC)
Load rating - 1 amp per terminal, 1.5 amp maximum all terminals combined
Display accuracy - ± 1ºF
Swing (cycle rate or differential) - Heating is adjustable from 0.4ºF to 2.0ºF / Cooling is adjustable from 0.4ºF to 2.0ºF
Power source - 18 to 30 VAC, NEC Class II, 50/60 Hz for hardwire (common wire) / Battery power from 2 AA Alkaline Energizer batteries
Operating ambient - 32ºF to +105ºF (0º to +41ºC)
Operating humidity - 90% non-condensing maximum
Dimensions - 4.7"W x 4.4"H x 1.1"D
Terminals - Rc, Rh, G, Y, Y2, C, O, B, W/E, W2, S1, S2
ProThermostats.com Price:
$99.24
Actual price available in cart
In Stock
Shipping Details
Standard: 2-7 Business Days: Free!
Shipping fees listed are for a quantity of (1)