Peco Model TW205-001 Wireless Non-Programmable Thermostat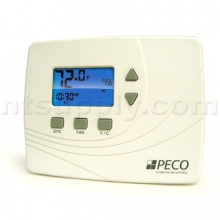 Click to Zoom
About This Thermostat
| | |
| --- | --- |
| MFG: | Peco |
| MFG#: | TW205-001 |
| Our#: | 175514 |
| Programmable: | No |
| Stages: | 2H & 2C |
| System Compatibility: | Single Stage, Multi-Stage, Heat Pump |
| Power Options: | Battery |
| Heat/Cool Changeover: | Automatic or Manual |
| Programmable Fan: | No |
| Temperature Limits: | Yes |
| Keypad Lockout: | Yes |
| Backlight: | Yes |
MUST BE USE WITH PECO MODEL RW205-001

Peco Model TW205-001 Wireless Non-Programmable Thermostat

PECO Wave Wireless System, non-programmable thermostat, 2 Heat/ 2 Cool, 24V or battery powered

The PECO Wave Wireless System offers a cost-effective alternative to expensive or difficult rewiring retrofit projects. Unlike built-in controls, the wireless units can be removed and reinstalled as the building floorplan changes without rewiring walls. The PECO Wave Wireless System reduces installation time, offering less disruption for occupants and decreased contractor labor time and expense.

PECO Wave Wireless System Components
The TW205 wireless thermostat is a base level unit offering affordable basic features, such as 2 Heat/ 2 Cool, 3-speed fan, and manual or auto changeover. Energy saving features include range limit adjustment, staged fan, occupancy and setback control. The RW205 receiver module receives input from the TW series thermostats as well as any occupancy sensing accessory installed to drive the functions of the PTAC, PTHP, and certain fan coil applications.


FEATURES:

Frequency Hopping Spread Spectrum Wireless
Occupancy HVAC Control Input
Controlled Off Saftey Option
Key Pad Lockout - Partial or Full
Setback Capability
Auto/ Heat/ Cool/ Off
Auto Summer/Winter Changeover Option
Local or Remote Sensing
LCD Display with Backlight
Fahrenheit or Celsius Display

SPECIFICATIONS:

Temperature Range: 50° to 90°F (10° to 32°C)
Differential: 1°F (0.5°C)
Input Power: TW205 / TW206 thermostat: Two AA alkaline batteries or 24 VAC, 50/60 Hz
RW205 receiver: 24 VAC or 100-277 VAC, 50/60 Hz
Wireless Type: 902 to 928 MHz Band, FHSS (Frequency
Hopping Spread Spectrum)
Wireless Range: 100 ft minimum in open air
Operating Temperature: 0° to 120°F (-17° to 48°C)
Shipping Temperature: -20° to 130°F (-28° to 54°C)
Operating Humidity: 5% to 95% RH, non-condensing
Physical Dimensions: TW205 / TW206: 4.6"H x 6"W x 1.2"D
RW205: 5"H x 4"W x 1.3"D
ProThermostats.com Price:
$161.51
In Stock
Shipping Details
Standard: 2-7 Business Days: Free!
Shipping fees listed are for a quantity of (1)