Peco Programmable Fan Coil Thermostat TA180-001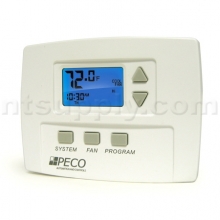 Click to Zoom
About This Thermostat
| | |
| --- | --- |
| MFG: | Peco |
| MFG#: | TA180-001 |
| Our#: | 175409 |
| Programmable: | Yes (7 Day) |
| Stages: | 1H & 1C |
| System Compatibility: | Line Voltage |
| Power Options: | Hardwire |
| Temperature Limits: | Yes |
| Keypad Lockout: | Yes |
Peco Programmable Fan Coil Thermostat TA180-001

A New Standard in Fan Coil Thermostats
The T180 thermostat brings smart energy management to the fan coil market, featuring Title 24 and Energy Star compliance. The T180 offers full 7 day, 4 event programmability making it ideal for condominiums, residential care facilities, or any fan coil application where programmability is mandated by code.
A Broad Range of Adjustments
Various configurations can supply staged fan, cycled fan, continuous fan, controlled off and fan coil operation. Additional energy saving features include range limit adjustment, staged fan, occupancy and setback control. The T180 retains all of the capability and flexibility that made the T170 a market favorite including 2/4 pipe support, built-in occupancy detection logic, remote probe capability, and an ADA-compliant design.

FEATURES:

7 Day Programmable
Energy Star, ASHRAE 90.1, and Title 24 Compliant
24 or 110-277 VAC Supply Voltage Selection
3 Speed Fan Available
Occupancy HVAC Control Input
Controlled Off Saftey Option
Key Pad Lockout - Partial or Full
Setback Capability
2-pipe/4-pipe Configuration
Auto Summer/Winter Changeover Option
Local or Remote Sensing
LCD Display with Backlight
Fahrenheit or Celsius Display
SPECIFICATIONS:
Temperature Range - 50 to 90°F / 10 to 32°C factory default, adjustable inward
Maximum Ambient - 130°F / 54°C
Load Connections - Wire leads
Mounting - Installs on a standard 4" x 4" (101.6mm x 101.6mm) device box with a 2" x 4" (50.8mm x 01.6mm) horizontal mud ring
Agency Approvals UL, UL Canada
Dimensions: 5.8" W X 4.4" H X 1.4" D



Easy To Install
Good Features
Good Tech Support
Pipe Sensor
Programmable
No Cancel Button
No Pipe Temp Display
Terminal Type
Comments about Peco Programmable Fan Coil Thermostat TA180-001:
As an owner of a renovated condo built originally in the 1960's with a 2-pipe fan coil HVAC system here in Austin TX, I was becoming incredibly frustrated with my existing HVAC & thermostat system. Austin's climate can be incredibly sporadic. In the fall and spring, we can have 80 degree days followed by 40 degree nights. This would cause our 2-pipe chiller/boiler system to change from heating to AC mode by the evening. During the day, we would all manually switch our thermostats to "Cool" mode, and once the outside temp went below some threshold, the system would end up switching to heating mode in the middle of the night.

Still in cooling mode, my manual-changeover thermostat would get into a runaway condition, turning my condo into an 90 degree sauna by 5am, causing me to wake up sweating, dehydrated, and groggy from lack of sleep.

After doing some research, I finally came across the T180 thermostat. It was exactly what I was looking for - automatic changeover based on pipe temperature, 7-day programmable, and within my price range.

I was able to install it myself with minor effort. For the first time after installation, our HVAC switched to AC from heating mode and the thermostat automatically did the changeover accordingly based on the pipe temperature. I was ecstatic over something seemingly so simple.

No more sweat-drenched sauna wakings for me!

Features I love:

- Automatic changeover based on pipe sensor reading!
- 2-pipe, 24VAC, fan-coil compatible
- 7 day programmable
- Copy function in programming - especially ability to copy to all weekdays
- Ability to disable certain fan speeds (my fans only have 2 speeds - my old thermostat would just shut off when it went to "Low" speed)
- Good documentation
- Good defaults programmed in as a starting point

A few minor recommendations for rev 2.0:

- I prefer the screw-in terminal type connection to the bunch of wires sticking out of the back. It makes wiring much simpler, and allows connection without the need for a huge cluster of twist connectors and electrical tape.
- Everything seems very well thought out in the software but the fan speed. I don't understand why there are two different model numbers for fixed 3-speed and stepping. This seems like it should be controlled easily through a selectable system option
- In fixed fan speed mode, it would be nice if that could be programmable based on the time of day as well. For instance, at night I may want the low speed because it is quiet. During the daytime, I may not care and want high or medium speed. This is a minor feature request.
- The ability to monitor the pipe temperature through the system menu. I had no way of knowing if the pipe sensor was getting any kind of accurate reading until the AC finally switched on.
- A cancel/exit button to get out of whatever menu you're in to the main screen. This could also serve as a button to turn on the backlight without going into any mode or changing any settings

Another note - I recently had to contact Peco Tech Support due to an issue with the changeover not quite working properly and the thermostat power cycling and never reaching the setpoint temperature. It was due to having the pipe sensor on the return pipe out of the coil. Tech support was incredibly knowledgeable and treated me with respect and like an intelligent human being capable of solving problems with the proper information.