LuxPro PSPHA732 Programmable Heat Pump Thermostat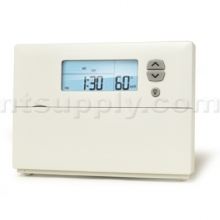 Click to Zoom
About This Thermostat
| | |
| --- | --- |
| MFG: | LuxPro |
| MFG#: | PSPHA732 |
| Our#: | 175316 |
| Programmable: | Yes (7 day) |
| Stages: | 3H & 2C |
| System Compatibility: | Heat Pump, Multi-Stage |
| Power Options: | 24 VAC Hardwire, Battery |
| Heat/Cool Changeover: | Automatic or Manual |
| Programmable Fan: | Yes |
| Temperature Limits: | No |
| Keypad Lockout: | Yes |
| Backlight: | Yes |
| Vacation Hold: | Yes |
LuxPro
PSPHA732
Programmable MultiStage Thermostat - Fully programmable, digital thermostat with auto changeover for control of 3 Stage Heat / 2 Stage Cool heat pump systems.
Compatibility:
. Up to 3 Stage Heat/2 Stage Cool: Heat Pump Systems
. Will Operate Aux. and Emerg. Heat
Features:
7-Day Programming
4 Periods Per Day
Auto or Manual Changeover
Energy Star Compliant
Exclusive Lux Speed Dial® - Makes
Reprogramming Easy
System or Battery Powered with Battery Free
Memory Storage (batteries included)
Keyboard Lockout
Filter Monitor
Temporary Override (CAT24 Compliant)
Vacation Override
Adjustable 2 or 5 Minute A/C Compressor Delay
Energy Usage Monitor
Luxlight® EL (Electro Luminescent) Display
Clean Cycle® Programmable IAQ
Intermittent Fan (Patent No. 6,988,671)
O and B Terminals
3-Year Warranty
Specifications:
Dimensions: 5.90" (150mm) wide x 4.13" (105mm) tall x 1.18" (30mm) deep
Heat/Cool Terminals: R, O, B, Y1, Y2, W1, G, C, E.
Electrical Ratings: 11/2 AMPS at each terminal, 2 AMPS total 24v AC. System or Battery
Powered: 2 "AA" Batteries .
Temperature Control Range: 45°F to 90°F (7° to 32°C). Accuracy: ±1°F over a range of 50°F to 95°F.
Environmental Limits:
Moisture and Dust: meets IP20.
Operating Humidity: 20% to 90% non-condensing.
Operating Temperature: +32°F to +122°F (+0°C to +50°C).
Storage Temperature: -4°F to +140°F (-20°C to +60°C).
Electrical Immunity: meets relevant CE specifications.

Easy To Adjust
Easy To Install
Fantastic options
Inexpensive
Intuitive Controls
Precise Controls
Comments about LuxPro PSPHA732 Programmable Heat Pump Thermostat:
Many thermostats have smart recovery for heat pumps. Smart recovery allows extra time for the heat to kick when the heat is rebounding from the setback setting. This is important because it allows the heat pump to gradually bring up the temperature to the desired setting, thereby avoiding the expensive electric heat to make up the difference. This thermostat also has an option to allow a larger temperature differential before the expensive electric heat kicks in, and provides additional savings on those cold nights when it takes longer for the heat pumpt to recovery from the setback setting.