LuxPro PSP721U Universal Programmable Thermostat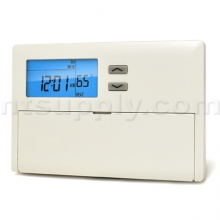 Click to Zoom
About This Thermostat
| | |
| --- | --- |
| MFG: | LuxPro |
| MFG#: | PSP721U |
| Our#: | 172945 |
| Programmable: | Yes (7 day) |
| Stages: | 2H & 1C |
| System Compatibility: | Single Stage, Heat Pump, Multi-Stage, Millivolt, Heat Only |
| Power Options: | 24 VAC Hardwire, Battery |
| Heat/Cool Changeover: | Automatic or Manual |
| Programmable Fan: | No |
| Temperature Limits: | No |
| Keypad Lockout: | Yes |
| Backlight: | Yes |
| Vacation Hold: | No |
PSP721U - 2 Stage Heat , 1 Stage Cool Universal Programmable Thermostat With 7 Day Program7 day program - each day can be programmed differently.

4 Periods per day - Morning, Day, Evening, Night.
Quick Copy Programming - copy any daily program and repeat it on any other day/s of the week.
Exclusive Lux® Speed Dial® for easy programming.
Lighted display.
Filter monitor.
Programmable keypad lock (10,000 different codes).
Smart Recovery.
Temperature hold.
Temporary temperature override.
Adjustable swing setting
Easy installation.
Dual power - hardwire or battery
3-Year Warranty
COMPATIBLE WITH:
Most 24V Heating and A/C Systems
Up to 2 Stage Heat / 1 Stage Cool
Heat Pump Systems
Will Operate Auxiliary and Emergency Heat
2 & 3 Wire Hydronic Systems (Hot Water Baseboard & Radiators)
Millivolt Systems (Wall Heaters / Furnaces & Gas Fireplaces)

SPECIFICATIONS:
Electrical Ratings: 1.5 AMPS at 24 VAC
Battery Powered: 2 "AA" Alkaline Batteries (included)
WARNING: Use Energizer® or DURACELL® Alkaline Batteries Only.
Temperature Differential: Adjustable from .25°F to 2.25°F.
Lighted Display: Celsius and 12/24 HR. Time Capable.
Accuracy: ±1°F over a range of 45°F to 90°F.
Temperature Control Range: 45°F to 90°F (7°C to 32°C).
Temperature Display Range: 23°F to 99°F (-5°C to 37°C).
Compatibilities: 1 Stage Heat / 1 Stage Cool: Gas, Oil, Electric or Single Stage Heat Pump Systems. 2 Wire Hydronic Systems and Hydronic Air Handling Systems.
Terminals: RH, RC, W1, W2, A, Y, G, O, B, C Solid Pin Connections Allow usage for 24V and Millivolt Systems.
Program Settings: 4 Preset Programs Per Day Heating and Cooling. All may be Easily Reprogrammed in 1° F/C and 15 inute Increments. Technical Service Number Listed for Help in programming.
Circuit Protection: Circuit Protection is Built-in, No Isolation Relays Required.
Compressor Protection: Built-in 5 Minute Time Delay
Environmental Limits:
Moisture and Dust: meets IP20. Operating Humidity: 20% to 90% non-condensing.
Operating Temperature: 14°F to 122°F (-10°C to 50°C).
Storage Temperature: -4°F to 140°F (-20°C to 60°C).
Electrical Immunity: meets relevant EMI/EMC specifications.
Dimensions: 6"W X 4-1/4" H X 1-1/2" D
Confusing Controls
Hard To Read Display
Comments about LuxPro PSP721U Universal Programmable Thermostat:
replaced my old Honeywell with this unit because Consumer Reports recommended it. Doesn't show the current setpoint readily, the display is too small and hard to read, and the vacation/special setting took me over half an hour to get right. Ok maybe I'm a dummy but the Honeywell was MUCH easier. Wish it hadn't broke on me!
Easy To Adjust
Easy To Install
Intuitive Controls
Precise Controls
Comments about LuxPro PSP721U Universal Programmable Thermostat:
This is a great thermostat ... one of the few that allows you to set the range around the selected temperature to slow down the on/off cycling. I set mine at 68F plus or minus 1F so the furnace comes on at 67F and goes off at 69F. It is just what I wanted.