A419ABC-1 Johnson Control Thermostat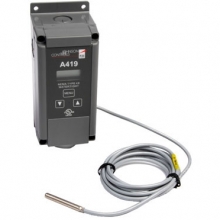 Click to Zoom
About This Product
| | |
| --- | --- |
| MFG: | Johnson Control |
| MFG#: | A419ABC-1 |
| Our#: | 110764 |
A419ABC-1 Johnson Control Thermostat - 120 or 240 VAC - can be used in either heating or cooling mode.

The A419 series controls are single-stage, electronic temperature controls with a Single-Pole, Double-Throw (SPDT) output relay. They feature a lockable front-panel touchpad for setup and adjustment, and a Liquid Crystal Display (LCD) for viewing the temperature and status of other functions. A Light-Emitting Diode (LED) indicates the controls' output relay On/Off status.

The A419 Electronic Temperature Control can be used to control a wide variety of single-stage refrigeration or Heating Ventilating, and Air Conditioning (HVAC) equipment. Typical applications include:

retail store display freezers and reach-in coolers
supermarket display cases for produce/meats
retail store walk-in coolers and freezers
boiler operating control (used as a thermostat)
condenser fan cycling or staging
cooling tower pump and fan control
space and return air temperature control
Easy-to-Read Front-Panel Liquid Crystal Display
Displays the sensed temperature and control-function status clearly; custom icons on the display indicate the control and system status at a glance

Wide Temperature Differential Adjustment Range (1 to 30F° or C°)
Allows the user to set a precise (1F° or C°) temperature differential from 1 to 30F° or C°; providing a much tighter differential than electromechanical controls

Adjustable Anti-Short Cycle Delay (0 to 12 Minutes in 1-Minute Increments)
Ensures that the output relay remains off for a user-set time delay, which helps avoid hard starts, nuisance overload outages, and unnecessary equipment wear

Switch-Activated Temperature Offset Function
Allows the user to shift the cut-in and cutout setpoints by an adjustable offset based on the status of a user-installed, external switch, such as a time clock

High-Impact, Thermoplastic NEMA 1 Corrosion-Resistant Enclosures
Increase application options, allowing surface and snap-fit DIN rail mount, or Watertight surface mount

Lockable Front Panel Touchpad
Allows easy set up and adjustment of the A419 control setpoint, differential, and other functions; a concealed jumper locks the touchpad, and deters unauthorized adjustment of the control settings

SPECIFICATIONS:
Supply Voltage: 120 or 240 VAC
Range: -30 to 212°F (-34 to 100°C)
Differential: 1 to 30F° (1 to 30C°)
Sensor Lead Length: NEMA 1 Models 6-1/2 ft (2 m)
Dimensions: 2-3/8" W X 5" H X 2-3/8" D
ProThermostats.com Price:
$82.25
In Stock
Shipping Details
Standard: 2-7 Business Days: Free!
Shipping fees listed are for a quantity of (1)