Jackson Systems Temp-StatT TS-75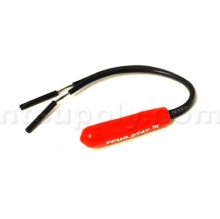 Click to Zoom
About This Product
| | |
| --- | --- |
| MFG: | Jackson Systems |
| MFG#: | TS-75 |
| Our#: | 110990 |
Temporary Construction Thermostat - Heating Only 75° F

Reduces fuel bills during the construction process.
"No more high fuel bills caused by construction workers turning up the thermostat and leaving."
Low cost (about ½ the cost of a conventional thermostat).
Available in many temperatures for both heating and cooling.
Rugged construction. Heat, moisture, paint and drywall dust do not affect its operation.
Mercury-free. Safe for the environment.

How Temp-StatT works:
Temp-StatT works just like any other heat-only or cool-only thermostat. It is a special bimetal thermostat with the same characteristics as any room thermostat.


How will it save the contractor time and money:
Temp-StatT is about ½ the cost of a conventional thermostat. It only takes two (2) wires from the HVAC unit to work. It can simply be connected to the "R" and "W" (for heating) wires with wire nuts. It can literally hang off the wall during construction. Temp-StatT does not need to be mounted or level. If preferred, it can be mounted in the return air ductwork. Additionally it prevents the theft or damage of the permanent thermostat
ProThermostats.com Price:
$12.00
In Stock
Homes
Large Rooms
Offices
Small Rooms
Comments about Jackson Systems Temp-StatT TS-75:
I've done allot of reasearch. this device is what is behind all the other nonprogrammable limit thermostats. The only way to hack this one or any other is to remove the thermostat and......I'm not going to say it.