Jackson Systems T-32-P Comfort System Universal Programmable Thermostat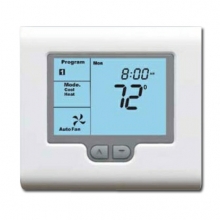 Click to Zoom
About This Thermostat
| | |
| --- | --- |
| MFG: | Jackson Systems |
| MFG#: | T-32-P |
| Our#: | 176899 |
| Programmable: | Yes (7 Day, or Non-Programmable) |
| Stages: | 3H & 2C |
| System Compatibility: | Single Stage, Multi-Stage, Heat Pump |
| Power Options: | 24 VAC Hardwire |
| Heat/Cool Changeover: | Manual |
| Programmable Fan: | No |
| Temperature Limits: | Yes |
| Keypad Lockout: | Yes |
| Backlight: | Yes |
| Vacation Hold: | No |
Jackson Systems T-32-P Comfort System Universal Programmable Thermostat

Great Thermostat / Great Features / Great Price!

The T-32-P is a perfect mix of esthetics, intuitive operation and performance at an amazingly affordable price. The T-32-P ic compatible with most residential and commercial HVAC systems and ideally suited for use with zoning systems.

Features:
Manual or auto changeover
Programmable or non-programmable
Adjustable setpoint limits
Keyboard locks
Adaptive recovery (optimized start)
Smart fan logic
24 volts with non-volatile memory
Large backlit display
Integrated Modbus option
2 or 4 schedules
Can be used with Outdoor or Indoor Remote Sensor for temperature averaging
Control range - 41 to 122 degrees
5 year limited warranty
Equipment compatibility:
1 Heat / 1 Cool
2 Heat / 2 Cool
2 Heat / 1 Cool Heat Pump
3 Heat / 2 Cool Heat Pump
2 Heat / 1 Cool Dual Fuel
3 Heat / 2 Cool Dual Fuel

Terminal Designations:
W2 Second Stage Heating or Auxiliary Heat
Y2 Second Stage Compressor
W1 - O/B First Stage Heating or Reversing Valve
Y1 First Stage Compressor
G Fan Relay
R 24 Volt Hot (Jumpered to '24')
24 24 Volt Hot (Jumpered to 'R')
24C 24 Volt Common
B Modbus Communications
A Modbus Communications
T Remote Sensor
T Remote Sensor

Unit Dimensions:
4" H X 4.375" W X .0975" D
ProThermostats.com Price:
$109.95
In Stock
Shipping Details
Standard: 2-7 Business Days: Free!
Shipping fees listed are for a quantity of (1)