Jackson Systems Temp-Stat CL-80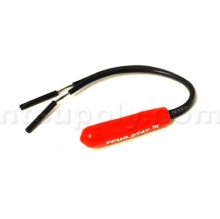 Click to Zoom
About This Product
| | |
| --- | --- |
| MFG: | Jackson Systems |
| MFG#: | CL-80 |
| Our#: | 176254 |
Temporary Construction Thermostat - Cooling Only 80° F

Reduces fuel bills during the construction process.
"No more high fuel bills caused by construction workers turning down the thermostat and leaving."
Low cost (about ½ the cost of a conventional thermostat).
Rugged construction. Heat, moisture, paint and drywall dust do not affect its operation.
Mercury-free. Safe for the environment.

How Temp-StatT works:
Temp-StatT works just like any other cool-only thermostat. It is a special bimetal thermostat with the same characteristics as any room thermostat.

How will it save the contractor time and money:
Temp-StatT is about ½ the cost of a conventional thermostat. It only takes two (2) wires from the HVAC unit to work. It can simply be connected to the "R" and "Y" (for cooling) wires with wire nuts. It can literally hang off the wall during construction. Temp-StatT does not need to be mounted or level. If preferred, it can be mounted in the return air ductwork. Additionally it prevents the theft or damage of the permanent thermostat
This cooling version (CL-55, CL-70, CL-80 or CL-75) of the Temp-Stat "makes" on a rise in temperature. It is recommended that a 2-wire short cycle timer be installed in the control circuit of the cooling unit (some units may have this built in).
Comments about Jackson Systems Temp-Stat CL-80:
I had a problem of guests in my home changing the thermostat... This unadjustable and relatively small device put in place of the 24v jumper to the cooling controls meant lowest temp 80 degrees even if someone changes the thermostat. Happy guest as they think it's cooler and happy me as my electric bill won't take a $180 to $200 dollar jump...