Honeywell Prestige IAQ Deluxe Comfort System - YTHX9421R5077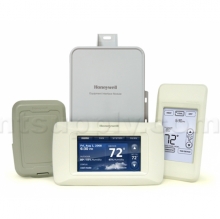 Click to Zoom
About This Thermostat
| | |
| --- | --- |
| MFG: | Honeywell |
| MFG#: | YTHX9421R5077 |
| Our#: | 177159 |
| Programmable: | Yes (7 Day or Non-Programmable) |
| Stages: | 4H & 2C |
| System Compatibility: | Multi-Stage, Heat Pump, Single Stage, Heat Only |
| Power Options: | 24 VAC Hardwire |
| Heat/Cool Changeover: | Automatic or Manual |
| Programmable Fan: | Yes |
| Temperature Limits: | Yes |
| Keypad Lockout: | Yes |
| Backlight: | Yes |
| Vacation Hold: | Yes |
Honeywell Prestige IAQ Deluxe Comfort System - YTHX9421R5077

The Prestige® IAQ 2.0 thermostat is a 2 wire high definition color touch screen thermostat, 7 day programmable, configurable for residential and light commercial, up to 4 heat / 2 cool heat pump and up to 3 heat / 2 cool conventional, controls humidification, dehumidification and ventilation, provides Delta T Alerts and Diagnostics, works with the Equipment Interface Module and RedLINK accessories.

Control this thermostat over the internet with the new RedLINK Internet Gateway

This Prestige IAQ Thermostat Kit contains

(1) THX9421R5013 Thermostat
(1) THM5421R1013 Equipment Interface Module
(1) REM5000R1001 Personal Comfort Station
(1) C7089R1013 Wireless Outdoor Sensor
(2) C7735A1000 Duct Sensors
FEATURES:

Large, easy-to-read full color display shows current indoor temperature and humidity, temperature setting, date and time on the home screen. Also displays outdoor temperature and humidity on home screen (if wireless outdoor sensor is installed)
Controls multistage equipment, humidification, dehumidification and ventilation all with only 2 wires at the thermostat location
Includes Personal Comfort Control - to provide comfort anywhere in the home. Provides temporarly override of thermostat sensor and climate control to wherever comfort station is located.
Includes Wireless Outdoor Sensor - s

enses outdoor temperature and humidity to display on RedLINK enabled thermostats and accessories.

Customizable Service Reminders allows the contractor to have automated messages direct homeowners to a screen with the contractor's full-color company logo, phone number and website.
Change Reminders to inform it is time to replace air filter, humidifier pad or ultraviolet bulb or batteries in RedLINKT connected devices.
Adjustable backlight level allows thermostat to be on full brightness at all times or dim to the brightness level of choice when the thermostat is not being used
Interview-Based Programming wizard to easily and confidently schedule thermostat temperature and times
USB Port allows downloading of installer settings to quickly and consistently perform setup of thermostats in similar applications
USB Port allows easy setup of dealer logo and contact information on thermostat screen
Real-Time Clock keeps time during power failure; automatically updates for daylight saving time
Precise Temperature Control (± 1 F) for reliable and consistent temperature
Multiple HOLD options allows modification of schedule as needed
RedLINKT Enabled to communicate with compatible wireless devices
SPECIFICATIONS:
Description - Prestige IAQ Thermostat Kit controls Humidification, Dehumidification and Ventilation Control
Application - Up to 4 Heat/2 Cool Heat Pumps
Application - Up to 3 Heat/2 Cool Conventional Systems
Programmability - 7-Day Multiple Day Programming or Non-Programmable
Changeover - Auto or Manual
Color - Arctic White
Dimensions (in.) - 3 15/16 in. High, 6 7/8 in. Wide, 1 1/2 in. Deep
Personal Comfort Station Dimensions (in.) - 6 1/4 in. High x 3 1/8 in. Wide x 1 5/8 in. Deep
Outdoor Temperature Sensor Dimensions - (with mounting bracket) 5 in. High x 3 1/2 in. Wide x 1 11/16 in. Deep
Switch Positions (System) - HEAT-OFF-COOL-AUTO-EM.HEAT
Switch Positions (Fan) - AUTO-ON-CIRC
Power Method - Hardwired
Terminal Designations - R, C then RedLINK to Equipment Interface Module
Electrical Ratings - 18 to 30 Vac
Frequency - 60 Hz
Frequency - 50 Hz
Electrical Connections - Screw terminals
Operating Temperature Range (F) - 32 F to 120 F
Operating Temperature Range (C) - 0 C to 48.9 C
Setting Temperature Range (F) - Heat: 40 F to 90 F; Cool 50 F to 99F
Setting Temperature Range (C) - Heat: 4.5 C to 32.0 C; Cool: 10 C to 37.0 C
Humidity Setting Range Cooling: 40 to 80% RH. Heating: 10 to 60% RH.
Stages - Up to 4 Heat / 2 Cool Heat Pump or Up to 3 Heat / 2 Cool Conventional
Operating Humidity Range (% RH) - 5 to 90% RH, non-condensing
Includes THX9421R5013 Prestige IAQ 2-Wire Thermostat, THM5421R1013 Equipment Interface Module, REM5000R1001 Portable Comfort Control, C7089R1013 Wireless Outdoor Air Sensor and two C7735A1000 Duct Sensors
Comments Tri-Lingual Display (selectable for English, French or Spanish)
Used With RedLINKT enabled thermostats and accessories
Display Size - 8.06 sq in.
Humidification Setting Range - 10 to 60% RH.
Dehumidification Setting Range - 40 to 80% RH.
Voltage - 18 to 30 Vac
Easy To Adjust
Easy To Install
Intuitive Controls
Precise Controls
Comments about Honeywell Prestige IAQ Deluxe Comfort System - YTHX9421R5077:
This replaced a previous top of the line Honeywell. The main reason for its use is that the existing mounting location is on an external wall and as a result the thermostat does not read the room temperature accurately (as the cold from the external wall interferes).

The idea of having a remote hand held unit - which can also be designated to function as the thermostat to measure the room temperature - is invaluable in my application.

Honeywell have also done a magnificent job in rewriting the user interface. It is extremely easy for a non technical person to program this thermostat.

Five stars and well worth it.