Honeywell Prestige HD YTHX9321R5061 Deluxe Comfort System Kit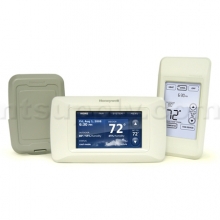 Click to Zoom
About This Thermostat
| | |
| --- | --- |
| MFG: | Honeywell |
| MFG#: | YTHX9321R5061 |
| Our#: | 177081 |
| Programmable: | Yes (7 Day or Non-Programmable) |
| Stages: | 3H & 2C |
| System Compatibility: | Multi-Stage, Heat Pump, Single Stage, Heat Only |
| Power Options: | 24 VAC Hardwire |
| Heat/Cool Changeover: | Automatic or Manual |
| Programmable Fan: | Yes |
| Temperature Limits: | Yes |
| Keypad Lockout: | Yes |
| Backlight: | Yes |
| Vacation Hold: | Yes |
Honeywell Prestige HD YTHX9321R5061 Deluxe Comfort System Kit - Replaces kit # YTHX9321R5003

NOTE - THIS IS A WIRED THERMOSTAT - IT REQUIRES 24V COMMON WIRE. Accessories (example - Outdoor Sensor) are wireless but wired connection with 24V "common" must be made between thermostat and heating/cooling equipment. CLICK HERE TO LEARN MORE ABOUT WIRING THIS THERMOSTAT

The Prestige® 2.0 thermostat is a high definition color touch screen thermostat, 7 day programmable, configurable for residential and light commercial, up to 3 heat / 2 cool heat pump and up to 2 heat / 2 cool conventional, controls humidification, dehumidification, and works with RedLINK accessories.

Control this thermostat over the internet with the new RedLINK Internet Gateway

This kit includes:
(1) Prestige 2.0 THX9321R5030 Thermostat
(1) REM5000R1001 Personal Comfort Control
(1) C7089R1013 Wireless Outdoor Air Sensor


FEATURES:
RedLINKT wireless communication.
Configurable for residential and light commercial applications. Meets commercial code and is title 24 compliant.
Light commercial - commercial language (occupied and unoccupied), schedule holidays and custom events, remote setback, economizer and time of day.
Alerts and User Interactions Log - Keeps a searchable history of alerts and setting changes to the thermostat to determine if there is a system malfunction or if the issue was caused by user error. Saves time in troubleshooting and points the technician in the right direction.
Customizable Service Reminders allow dealers to remind their customers when its time to call for service, when their warranty is expiring and to provide customized alerts.
USB port for transferring Installer Setup, Customizable Reminders, Custom Events and Holidays to multiple thermostats.
USB port for adding the dealer's full color business logo on the screen.
2 assignable outputs to control humidification, dehumidification, ventilation and a stage of heating or cooling.
Tri-lingual - English, French and Spanish display options.
Precise temperature control (± 1 F) for reliable and consistent temperature.
Multiple staging options to provide comfort or energy savings
SPECIFICATIONS:
Description Prestige 2.0 HD Comfort System Kit.
Application Up to 3 Heat/2 Cool Heat Pumps
Application Up to 2 Heat/2 Cool Conventional Systems
Programmability 7-Day Multiple Day Programming or Non-Programmable
Changeover Auto or Manual
Color Arctic White
Switch Positions (System) HEAT-OFF-COOL-AUTO-EM.HEAT
Switch Positions (Fan) AUTO-ON-CIRC
Power Method Hardwired
Terminal Designations R, RC, C, W-O/B, W2-AUX/E, Y, Y2, G, A-L/A, K, U1 U1, U2 U2
Electrical Ratings 18 to 30 Vac
Frequency 60 Hz
Frequency 50 Hz
Electrical Connections Screw terminals
Operating Temperature Range (F) 32 F to 120 F
Operating Temperature Range (C) 0 C to 48.9 C
Setting Temperature Range (F) Heat: 40 F to 90 F; Cool 50 F to 99F
Setting Temperature Range (C) Heat: 4.5 C to 32.0 C; Cool: 10 C to 37.0 C
Humidity Setting Range Cooling: 40 to 80% RH. Heating: 10 to 60% RH.
Stages Up to 3 Heat / 2 Cool Heat Pump or Up to 2 Heat / 2 Cool Conventional
Outdoor Sensor N/A
Remote Sensor No
Operating Humidity Range (% RH) 0 to 90% RH, non-condensing
Includes THX9321R5030 Prestige 2.0 Thermostat, REM5000R1001 Personal Comfort Control, C7089R1013 Wireless Outdoor Air Sensor
Comments Tri-Lingual Display (selectable for English, French or Spanish)
Used With RedLINKT enabled thermostats and accessories
Display Size 8.06 sq in.
Humidification Setting Range 10 to 60% RH.
Dehumidification Setting Range 40 to 80% RH.
Voltage 18 to 30 Vac
Easy To Adjust
Easy To Install
Intuitive Controls
Precise Controls
Comments about Honeywell Prestige HD YTHX9321R5061 Deluxe Comfort System Kit:
Easy to install, just took a few min. Added the internal sensors, allows for more precise temperature control.