Honeywell RedLINK™ VisionPro 8000 Programmable Universal Thermostat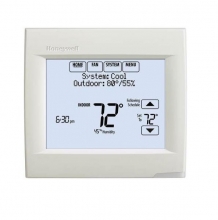 Click to Zoom
About This Thermostat
| | |
| --- | --- |
| MFG: | Honeywell |
| MFG#: | TH8321R1001 |
| Our#: | 177881 |
| Programmable: | Yes (7-day or non programmable) |
| Stages: | 3H & 2C |
| System Compatibility: | Multi-Stage, Heat Pump, Single Stage |
| Power Options: | 24 VAC Hardwire, Battery |
| Heat/Cool Changeover: | Automatic or Manual |
| Programmable Fan: | Yes |
| Temperature Limits: | Yes |
| Keypad Lockout: | Yes |
| Backlight: | Yes |
| Vacation Hold: | Yes |
RedLINK VisionPro 8000 Programmable Universal Thermostat - TH8321R1001

The all-new VisionPro 8000 includes Honeywell's RedLINK technology. It can be configured for residential or commercial use. This thermostat will control up to 3 Heat / 2 Cool heat pump systems and up to 2 heat / 2 cool conventional systems.
FEATURES:
Thermostat works standalone or with the THM5421R1021 Equipment Interface Module or with the TrueZONE Wireless Adapter.
Smart Schedule - programs in seconds for any lifestyle.
Patented interview based programming and installer setup.
RedLINK wireless communication.
Increase flexibility by adding RedLINK accessories that provide comfort and convenience. RedLINK accessories include the RedLINK Internet Gateway, Portable Comfort Control (PCC), Wireless Outdoor Sensor, Wireless Indoor Sensor, Wireless Entry/Exit Remote, Wireless Vent and Filter Boost Remote, TrueSTEAM humidifier with Wireless Adapter and TrueZONEŽ zoning panel with Wireless Adapter.
Selectable for residential and light commercial applications. Meets commercial code and is title 24 compliant.
Light commercial - commercial language (occupied and unoccupied), schedule holidays and custom events, remote setback, economizer and time of day. Remote Setback requires the THM5421R1021 Equipment Interface Module.
Plain language setup, no manual needed.
Alerts and User Interactions Log - Keeps a searchable history of alerts and setting changes to the thermostat to determine if there is a system malfunction or if the issue was caused by a user error. Saves time in troubleshooting and points the technician in the right direction. The Alert and User Interaction Logs are viewable on a computer after you download them from the thermostat to a microSD card.
Customizable Service Reminders allow dealers to remind their customers when its time to call for service, when their warranty is expiring and to provide customized alerts.
MicroSD port for copying the Installer Setup, Customizable Reminders, Custom Events and Holidays to multiple thermostats.
MicroSD port for adding the dealer's contact information on the screen.
1 assignable output on the TH8321 model to control humidification, dehumidification, ventilation or a stage of heating/cooling.
SPECIFICATIONS:

Application - Up to 3H/2C heat pump or up to 2H/2C conventional
Dimensions (in.) - 4 5/8 in. High, 4 15/16 in. Wide, 1 1/8 in. Deep
Dimensions (mm) - 118 mm. High, 126 mm. Wide, 29 mm. Deep
Includes - VisionPROŽ 8000 thermostat
Used With - Works standalone or with optional THM5421R1021 Equipment Interface Module and RedLINKT accessories
Electrical Ratings - 18 to 30 Vac or 750 mV
Frequency - 50 Hz; 60 Hz
Stages - Up to 3 Heat / 2 Cool Heat Pump or Up to 2 Heat / 2 Cool Conventional when used standalone; Up to 4 Heat / 2 Cool Heat Pump or Up to 3 Heat / 2 Cool Conventional when used with the Equipment Interface Module
Electrical Connections - Screw terminals
Operating Humidity Range (% RH) - 5 to 90% RH, non-condensing
Supply Voltage - 18 to 30 Vac or 750 mV
Switch Positions (System) - HEAT-OFF-COOL-AUTO-EM.HEAT
Switch Positions (Fan) - AUTO-ON-CIRC-FOLLOW SCHEDULE
Operating Temperature Range (F) - 32 F to 120 F
Operating Temperature Range (C) - 0 C to 48.9 C
Color - Arctic White
Programmability - 7-Day Multiple Day Programming or Non-Programmable
Power Method - Battery or Hardwired
Terminal Designations - R, RC, C, W-O/B, W2-AUX/E, Y, Y2, G, A-L/A, K, U1 U1, S1 S1
Display Size - 10 sq in.
Changeover - Auto or Manual
Setting Temperature Range (F) - Heat: 40 F to 90 F; Cool 50 F to 99F
Setting Temperature Range (C) - Heat: 4.5 C to 32.0 C; Cool: 10 C to 37.0 C
Humidification Setting Range - Cooling: 40 to 80% RH. Heating: 10 to 60% RH.
Dehumidification Setting Range - 40 to 80% RH
ProThermostats.com Price:
$229.95
Regular
$335.63
,
You Save $105.68 (31%)
In Stock
Shipping Details
Standard: 2-7 Business Days: Free!
Shipping fees listed are for a quantity of (1)