Honeywell Wifi VisionPro 8000 Programmable Universal Thermostat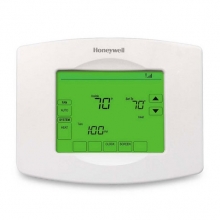 Click to Zoom
About This Thermostat
| | |
| --- | --- |
| MFG: | Honeywell |
| MFG#: | TH8320WF1029 |
| Our#: | 177462 |
| Programmable: | Yes (7-day or non programmable) |
| Stages: | 3H & 2C |
| System Compatibility: | Multi-Stage, Heat Pump, Single Stage |
| Power Options: | 24 VAC Hardwire |
| Heat/Cool Changeover: | Automatic or Manual |
| Programmable Fan: | Yes |
| Temperature Limits: | Yes |
| Keypad Lockout: | Yes |
| Backlight: | Yes |
| Vacation Hold: | Yes |
Honeywell Wifi VisionPro 8000 Programmable Universal Thermostat - TH8320WF1029
Note: This thermostat requires a 24V "Common" Wire. It cannot operate on batteries
The newest addition to the Honeywell VisionPro line, the VisionPro Wifi TH8320WF1029 connects to your home's Wi-Fi network so you can control it via your smartphone, tablet or any web-enabled computer anytime from anywhere.
. Large, Clear Display with Backlighting current temperature, set temperature and time are easy-to-read and all are displayed on the home screen.
. Menu Driven Programming Guides you through the scheduling process, showing only necessary information and choices on each screen.
. Ability to Select Multiple Days allows you to easily customize the thermostat for your unique schedule.
. Real-Time Clock keeps time during power failure; automatically updates for daylight savings.
. Armchair Programming allows you to remove thermostat from wall to set the schedule.
. Precise Temperature Control (+/- 1 F) reliable, consistent comfort.
. Multiple HOLD options allows you to modify schedule indefinitely or for a specific time.
. Change Reminders reminds you to service or replace the air filter, humidifier pad, ultraviolet lamp or thermostat batteries.
. Programmable Fan increases air quality when combined with a whole-house air cleaner.
. NOTE: This thermostat requires 24V "Common" Wire.
Wi-Fi Features:
. Wi-Fi enabled for remote access from anywhere
. Free mobile app for remote thermostat control. Available for Android or iOS
. Manage multiple thermostats at various locations
. High/Low temperature alerts via email, phone or web
. View local weather from your app
SPECIFICATIONS:
Application: WiFi VisionPRO Thermostat, Heat/Cool or Heat Pump with Auxiliary Heat
Dimensions (in.): 4 9/16 in. high x 6 in. wide x 1 1/4 in. deep
Dimensions (mm): 116 mm high x 152 mm wide x 32 mm deep
Used With: THP9045 Wire Saver, C7089U1006 Outdoor Air Sensor
Comments: The L terminal is an input or output.;
Selectable: Programmable or Non-Programmable
Mounting: Horizontal
Electrical Ratings: 20 to 30 Vac
Frequency: 50 Hz; 60 Hz
Stages: Up to 3 Heat/2 Cool Heat Pump; Up to 2 Heat/2 Cool Conventional
Operating Humidity Range (% RH): 5 to 90% RH, non-condensing
Switch Positions (System): HEAT-OFF-COOL-AUTO-EM.HEAT
Switch Positions (Fan): AUTO-ON-CIRC
Operating Temperature Range (F): 0 F to 120 F
Operating Temperature Range (C): -18 C to 49 C
Shipping and Storage Temperature Range (F): - 30 F to 150 F
Shipping and Storage Temperature Range (C): -34 C to 66 C
Differential Temperature: (F)a 1 F
Differential Temperature: (C)a0.5 C
Color: Premier White
Ambient Temperature Range (F): 0 F to 120 F
Ambient Temperature Range (C): -18 C to 49 C
Switch Type: Relay
LEDs: Emergency Heat
Programmability: 7 Day Multiple Day Programming or Non-Programmable
Power Method: Battery or Hardwired
Terminal Designations: R, RC, W (O/B), W2 (AUX), Y, Y2, L, E, G, C, S1, S2
Display: Touchscreen
Scheduling: On-line scheduling
Display Size: 10 sq in.
Temperature Control Mode Selections: F or C
Changeover: Auto/Manual Selectable
Setting Temperature Range (F): Heat: 40 F to 90 F; Cool: 50 F to 99 F
Setting Temperature Range (C): Heat: 4.5 C to 32 C; Cool: 10 C to 37 C
Cool Current: 1.0 A running
Heat Current: 1.0 A running
Fan Current: 0.6A running
External Sensors Available: Outdoor Air Sensor, wired
Outdoor Temperature Display Range (F): -40 F to 127 F
Outdoor Temperature Display Range (C): -40 C to 53 C

Merchant Services
ProThermostats.com Price:
$154.95
Regular
$335.63
,
You Save $180.68 (54%)
In Stock
Standard: 2-7 Business Days: Free!
Shipping fees listed are for a quantity of (1)