Honeywell FocusPRO 5000 Non-Programmable MultiStage Thermostat, Small Screen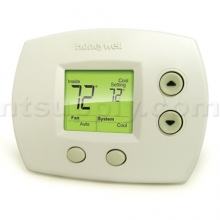 Click to Zoom
About This Thermostat
| | |
| --- | --- |
| MFG: | Honeywell |
| MFG#: | TH5220D1003 |
| Our#: | 100938 |
| Programmable: | No |
| Stages: | 2H & 2C |
| System Compatibility: | Multi-Stage, Heat Pump |
| Power Options: | Battery, 24 VAC Hardwire |
| Heat/Cool Changeover: | Automatic or Manual |
| Programmable Fan: | No |
| Temperature Limits: | Yes |
| Keypad Lockout: | No |
| Backlight: | Yes |
| Vacation Hold: | No |
Honeywell's FocusPRO 5000 digital thermostat offers the perfect blend of features and value that deliver the highest degree of temperature control accuracy. With the largest backlit digital display in its class, plus its simple operation and maintenance, FocusPRO provides homeowners with simplicity and comfort that's easy to see.
The FocusPROT non-programmable digital thermostat provides electronic control of 24 Vac conventional and heat pump systems or 750 mV heating systems.
FEATURES:
. Non-programmable digital thermostat.
. Large, clear, backlit display - easy to read in various lighting conditions.
. Display size options - available in large screen or standard.
. Precise comfort control (+/- 1º F) - maintains consistent comfort to the highest level of accuracy.
. Easy change battery door - flip out door allows for easy battery replacement without removing or disassembling the thermostat.
. 5-year limited warranty.
SPECIFICATIONS:
Application - Conventional and Heat Pump systems
Mounting - Horizontal
Changeover - Auto/Manual Selectable
Color - Premier White®
Stages - Up to 2 Heat / 2 Cool
Power Method - Battery or Hardwired
Terminal Designations- Rc, R, W (O/B), W2 (AUX), Y, Y2 (E), G, L, C
Switch Positions (Fan) AUTO-ON
Switch Positions (System) HEAT-OFF-COOL-AUTO-EM.HEAT
Switch Type Relay
Accuracy (F) ±1 F
Accuracy (C) ±0.5 C
Dimensions (in.) 3 9/16 in. High X 5 13/16 in. Wide X 1 1/2 in. Deep
Dimensions (mm) 91 mm High X 147 mm Wide X 38 mm Deep
Setting Temperature Range (F) Heat: 40 F to 90 F; Cool: 50 F to 99 F
Setting Temperature Range (C) Heat: 4.5 C to 32 C; Cool: 10 C to 37 C
Frequency 50 Hz
Frequency 60 Hz
Cool Current Y = 0.02 A to 1.0 A running
Cool Current Y2 = 0.02 A to 1.0 A running
Heat Current W = 0.02 A to 1.0 A running
Heat Current W2 (AUX) = 0.02 A to 0.5 A running
Heat Current E = 0.02 A to 1.0 A running
Fan Current 0.02 A to 0.5 A running
Sensor Element Thermistor
Operating Humidity Range (% RH) 5 to 90% RH, non-condensing
Comments Standard Display
Display Size 3.75 sq. in.
Voltage 20 to 30 Vac or 750 mV

ProThermostats.com Price:
$78.74
Regular
$120.09
,
You Save $41.35 (34%)
In Stock
Shipping Details
Standard: 2-7 Business Days: Free!
Shipping fees listed are for a quantity of (1)
Easy to adjust (3)
Intuitive controls (3)
Simple controls (3)
Easy To Adjust
Intuitive Controls
Precise Controls
Central Controls
Homes
Large Rooms
Offices
Comments about Honeywell FocusPRO 5000 Non-Programmable MultiStage Thermostat, Small Screen:
I use these thermostats on all our rental condos
Easy To Adjust
Easy To Install
Intuitive Controls
Precise Controls
Comments about Honeywell FocusPRO 5000 Non-Programmable MultiStage Thermostat, Small Screen:
used on vacation rental condos
Easy To Adjust
Easy To Install
Intuitive Controls
Precise Controls
Comments about Honeywell FocusPRO 5000 Non-Programmable MultiStage Thermostat, Small Screen:
na