Honeywell TB7100A1000 MultiPro Commercial Thermostat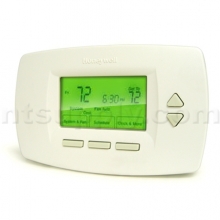 Click to Zoom
About This Thermostat
| | |
| --- | --- |
| MFG: | Honeywell |
| MFG#: | TB7100A1000 |
| Our#: | 172898 |
| Programmable: | Yes (7 day or non-programmable) |
| Stages: | 1H & 2C |
| System Compatibility: | Single Stage, Multi-Stage, Heat Pump |
| Power Options: | Battery, 24 VAC Hardwire |
| Heat/Cool Changeover: | Automatic or Manual |
| Programmable Fan: | Yes |
| Temperature Limits: | Yes |
| Keypad Lockout: | Yes |
| Backlight: | Yes |
| Vacation Hold: | No |
Honeywell MultiPRO TB7100A1000 Multispeed and Multipurpose Thermostat is an effortless, seven-day programmable or non-programmable thermostat that provides universal system compatibility

The TB7100A1000 provides universal system conpatibility, precise comfort and is easy to program. The MultiPRO provides temperature control for gas, oil, electric, heat pumps, PTACs, and fan-coil equipment for the following types of applications: 1H/1C conventional; Up to 2H/1C heat pump; 4 pipe fan coil (3 fan speeds); 2 pipe fan coil (3 fan speeds); 2 pipe fan coil w/Auxilliary Heat (3 fan speeds); PTAC (Hi, Lo fan speeds).

FEATURES:
. Large, clear display with backlight shows the current and set temperature and time--even in the dark.
. Menu-driven programming make setup effortless.
. Beautiful ergonomic design is smart and sophisticated to match your customers' lifestyle.
. Real-time clock keeps time during power failures and automatically updates to daylight savings.
. Saving Changes notification lets you know when the schedule changes have been saved.
. Change reminders let you know when to replace the batteries.
. Holiday Override options allow you to override the program schedule, as desired.
. Speedy same--schedule programming--no need to copy multiple days.
. Armchair programming allows you to remove the thermostat from the wall for programming.
. Programmable or non-programmable modes.
. Remote setback input for occupancy sensors or timeclocks.
. VersaSpeedT fan ramping algorithm and fan reset algorithm (fan coil and PTAC applications).
. Up to 3 fan speeds for fan coil and 2 fan speeds for PTAC applications.
. Remote Indoor air sensing option (20K ohm or 10K ohm)

SPECIFICATIONS:

Description - MultiSpeed and Multipurpose Programmable/Non-Programmable Thermostat
Application - Conventional, Heat Pump, Fan Coil, and PTAC Systems
Stages - For Conventional: 1H/1C, For Heat Pump: up to 2H/1C, For Fan Coil: 2 or 4 pipe, For PTAC: Up to 2H/1C
Switch Positions (System) - Auto-Cool-Off-Heat
Switch Positions (Fan) - AUTO-ON; Fan Coil: HI-MED-LO; PTCA: HI-LO
Color - Premier White®
Electrical Connections - 24 VAC or Battery
Comments - EnergyStar product (Title 24 energy code compliant)
Dimensions - 6" W X 3-3/4" H X 1-3/8" D
Easy To Adjust
Easy To Install
Precise Controls
Comments about Honeywell TB7100A1000 MultiPro Commercial Thermostat:
Added this thermostat to control three booster fans in an older farm house. It has worked perfect. The rooms that the fans were installed in were always cold now they are nice and warm.
Easy To Adjust
Easy To Install
Intuitive Controls
Precise Controls
Comments about Honeywell TB7100A1000 MultiPro Commercial Thermostat:
THIS STAT IS THE ONE BUY WHEN YOU FIND THE WRONG STAT RUNING A UNIT WITH HEATING COOLING AUX HEAT AND 3 SPEED FAN