Honeywell Round Mercury Free 1 Heat/1 Cool Thermostat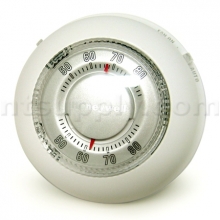 Click to Zoom
About This Thermostat
| | |
| --- | --- |
| MFG: | Honeywell |
| MFG#: | T87N1000 |
| Our#: | 110870 |
| Programmable: | No |
| Stages: | 1H & 1C |
| System Compatibility: | Single Stage |
| Power Options: | N/A |
| Heat/Cool Changeover: | Manual |
| Programmable Fan: | No |
| Temperature Limits: | No |
| Keypad Lockout: | No |
| Backlight: | No |
| Vacation Hold: | No |
The Round® T87N thermostat provides electronic control of 24Vac heating and cooling systems with the classic twist to set dial.
. Mercury Free
. Classic Styling
. Premier White®
. Separate temperature setting and thermometer
. Mechanical
temperature-limiting range stops available
FEATURES:
Description- The Round® Heat and Cool Mercury Free Thermostat
Application- Conventional and Heat Pump systems
Mounting- Round
Changeover- Manual
Color- Premier White®
Stages- 1 Heat/1 Cool
Power Method- Uses stored power from heating and cooling controls.
Terminal Designations- R, Rc, W, Y, G, O, B
Switch Positions (Fan)- AUTO-ON
Switch Positions (System)- COOL-OFF-HEAT
Switch Type- Relay
Accuracy- (F) 2 F
Accuracy- (C) 1 C
Dimensions- (in.) 3 11/16 in. diameter x 1 3/4 in. deep
Dimensions- (mm) 94 mm diameter x 45 mm deep
Setting Temperature Range- (F) 40 F to 90 F
Frequency- 60 Hz;50 Hz
Cycles per Hour- Adj. 1,3,5,9
Cool Current- 0.02-1.2A running
Heat Current- 0.02-1.2A running
Sensor Element- Thermistor
Operating Humidity Range- (% RH) 5 to 90% RH (non-condensing)
Voltage- 20 to 30 Vac
Easy To Adjust
Easy To Install
Intuitive Controls
Precise Controls
Comments about Honeywell Round Mercury Free 1 Heat/1 Cool Thermostat:
The thermostat holds the temperature setting very steady, no temperature drop before the furnace kicks on and no overshoot of set temperature before the furnace cuts off.
Easy To Adjust
Easy To Install
Intuitive Controls
Precise Controls
Central Controls
Homes
Large Rooms
Small Rooms
Comments about Honeywell Round Mercury Free 1 Heat/1 Cool Thermostat:
We are at present using it to heat although it does cool. We did try the cooling faze and it worked perfectly. It is easy to adjust and ease of instalation was very straight forward. It holds the temperature set within 3 degrees so it is comfortable. We find no down side with this product. It is easy to understand how to set it. So it is great for all who need to use the KISS sytem (Keep It Simple For Stupid) That is us. Well we are not really stupid but age has crept in and figuring out the new and modern thermostates is a real stretch for us. So this one with a simple old fashion tern the dial for your temperature works for us just fine. Thanks