Honeywell REM5000R1001 Personal Comfort Station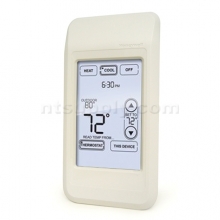 Click to Zoom
About This Thermostat
| | |
| --- | --- |
| MFG: | Honeywell |
| MFG#: | REM5000R1001 |
| Our#: | 173365 |
| Programmable: | Yes (NULL) |
| System Compatibility: | Multi-Stage, Heat Pump, Single Stage |
| Power Options: | Battery, 24 VAC Hardwire |
| Heat/Cool Changeover: | Automatic or Manual |
| Programmable Fan: | No |
| Temperature Limits: | Yes |
| Keypad Lockout: | No |
| Backlight: | Yes |
| Vacation Hold: | Yes |
Honeywell REM5000R1001 Personal Comfort Station - works with RedLINK enabled wireless FocusPro thermostats and Prestige thermostats.

Comfort Station Only - Works only with Prestige Thermostats and Wireless FocusPro Thermostats. Only 1 REM5000R1001 Can be used with each Prestige.

Features:
. Powered by RedLINKT reliability
. No interference with other wireless devices in the home
. Works with compatible RedLINKT enabled thermostats and accessories
. Installs in minutes
. Touchscreen interface with backlit display
. Can display outdoor temperature and humidity
. Built-in pager with an audible noise helps locate the device in the home
. Screen-lock feature helps prevent accidental changes
. 1 year battery life
. 2 month low battery warning In Non-Zoned Applications:
. Bring it with you anywhere in the home to sense and control temperature from the room that you are in. In Zoned Applications:
. View and adjust all RedLINKT enabled thermostats from a single control.
. Controls up to 16 thermostats

SPECIFICATIONS:
Description Use the Personal Comfort StationT anywhere in the home to experience a new level of comfort and convenience. Works in both zoned and non-zoned applications.
Application Zoned and Non-Zoned Applications
Changeover Auto or Manual
Switch Positions (System) HEAT-OFF-COOL-AUTO-EM.HEAT
Power Method Battery
Dimensions (in.) 6 1/4 in. high x 3 1/8 in. wide x 1 5/8 in. deep
Dimensions (mm) 159 mm high x 79 mm wide x 41 mm deep
Operating Temperature Range (F) 32 F to 120 F
Operating Temperature Range (C) 0 C to 48.9 C
Differential Temperature (F) ± 1 F
Differential Temperature (C) ±0.5 C
Sensor Element Thermistor
Operating Humidity Range (% RH) 5 to 90% RH, non-condensing
Comments Portable Comfort Control is also available in kits.
Used With RedLINKT enabled thermostats and accessories
Easy to install (3)
Simple controls (3)
Reviewer Profile:
Homeowner (3)
Easy To Adjust
Easy To Install
Intuitive Controls
Precise Controls
Comments about Honeywell REM5000R1001 Personal Comfort Station:
I paid for an extensive HVAC relocation, but did not have the stat relocated. The Personal Comfort Station allows for more balanced heat throughout the upper level. This is true since there are many windows in some South facing rooms, and the stat can be relocated to cooler North facing locations as needed to balance heat. My system is a multizone multi furnace system that now works well with the added advantage of custom room temp as desired
Easy To Install
Precise Controls
Can't have more than one
Confusing Controls
Hard To Read Display
Comments about Honeywell REM5000R1001 Personal Comfort Station:
Please note that you cannot use more than one remote to control a Prestige Thermostat. We tried. No way, no how. We had to return it, at our expense. (The website now has a pretty clear notice to that effect.)

The full-color Prestige Thermostats are one of the most beautiful, well-designed touch-screen products I've ever seen, and I've seen a lot of them. Against that product, this remote control comes off poorly. However, I am happy that we have at least one of them, for our living room.

First, the bad: The display is so low-contrast that it is difficult, usually impossible to read without picking it up and triggering the back light. Once lit, however, it is very easy to read.

The layout is different enough from the thermostats that the learning from one fails to map onto the other. The touch screen seems sluggish, requiring you to press multiple times sometimes before you are apparently noticed.

The information displayed is, in some cases, ambiguous, requiring a careful reading of the manual in order to be able to interpret things such as whether the thermostat is in Auto mode or either heating-only or cooling-only mode.

It does have a couple of excellent tricks it can perform, but you are required, for some reason, to choose only one. First, you can use the remote to generate a micro-climate around where you sit: Rather than the wall thermostat using its internal thermometer to measure the room, it will use the thermometer within the remote. This is quite handy if your wall thermostat was less than optimally sited. You place the remote where you actually sit, and where you actually sit will be the temperature you want, all the time.

The second capability is that you can control multiple thermostats from the same remote, so, sitting in your living room, you can change the temperature setting for your bedroom.

There are two problems with all this. First, you have to decide whether you want the microclimate capability or to control multiple rooms. You can't do both. Second, depending on your dwelling, you may not be able to communicate with a second or third thermostat. (In our 2800 square foot house, our living room remote was unable to make any contact with our bedroom.)

Please also note that you cannot tie more than one remote to any given thermostat, so, if you already have a remote in the bedroom, you can't control the bedroom from your living room remote no matter what.

My advice for those wanting more than one thermostat would be to buy one kit with remote and outside sensor and one thermostat by itself. Then see what you want to do with the remote. (The outside sensor will work with mutiple thermostats and you're very likely to find a compromise place where it can communicate with all thermostats.) You can then buy this extra remote if you find you want one for each thermostat.

We love the one we have in our living room because of the micro-climate capability. We have no need for the one in the bedroom; the thermostat keeps us at an ideal temperature at all time, and we've never felt the need to override it.

As for Honeywell, what they should do is to make a separate remote-thermostat which could be placed and left wherever is optimal. Then, make much smaller, cheaper hand-held remotes and change the software so people can have as many of them as they wish.
Easy To Adjust
Easy To Install
Intuitive Controls
Precise Controls
Comments about Honeywell REM5000R1001 Personal Comfort Station:
This remote thermostat just plain rocks. It can be used to control the temperature in any room of your house as you move about. Why use a thermostat located in the living room to control the temperature of your bedroom at night? It CANNOT be accurate. With this device all you need to do is transfer control to the remote and set it on your night stand. Your bedroom temperature will remain whre you desire it to be without wasting heating or cooling dollars because the furnace is responding to a thermostat located in a different location. In addition, you stay confortable and if you need to make a change you can do so without leaving bed.

Controls are VERY easy to use and provides excellent flexibility.

A bit pricey as you need to install the receiver / controller, but if you crave comfort and long term cost savings you cannot go wrong.