ProThermostats.com
> Honeywell TrueIAQ Digital Humidistat, Dehumidistat, Fresh Air Control
Honeywell TrueIAQ Digital Humidistat, Dehumidistat, Fresh Air Control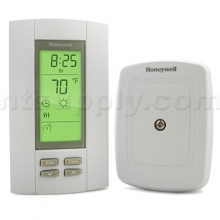 Click to Zoom
About This Product
| | |
| --- | --- |
| MFG: | Honeywell |
| MFG#: | DG115EZIAQ |
| Our#: | 171859 |
TrueIAQ Digital IAQ Control. Integrate control of your home's humidification, dehumidification, ventilation and even bathroom fans into a single device with Honeywell's TrueIAQT Control.

Includes TrueIAQ control, and remote sensor. Requires constant supply of 24VAC Power. Sensor is wired using 2-conductor, 18 gauge thermostat wire.

The TrueIAQ monitors and automatically adjusts operation of your whole-house humidifier, dehumidifier, ventilator, or bath fan.
Maintaining proper indoor humidity minimizes the potential for unhealthy airborne pollutants to grow. Having too little humidity can leave you vulnerable to infections and uncomfortable dry skin. Too much humidity creates ideal breeding grounds for mold, mildew and dust mites. Humidified air also feels warmer in the winter, and dry air feels cooler in the summer.
TrueIAQ can adjust humidity with or without dependency on HVAC equipment operation.
If you have both a humidifier and dehumidifier installed, the TrueIAQ can automatically change over to the appropriate equipment based on your comfort settings and the changing outdoor conditions.
TrueIAQ can also deliver fresh air with or without dependency on HVAC equipment operation. Today's building codes require homes to be built more tightly for energy efficiency,
but that tightness can also trap indoor air pollutants, such as cooking odors, cleaning agents, radon, and carbon dioxide/monoxide. TrueIAQ provides cost-effective ventilation in accordance to industry standards. In addition, the TrueIAQ can be programmed to deliver ventilation during set times of the day or night.

Specifications:

Operating/Storage temp: -40°F to 120°F (-40°C to 50°C)
Condensation Protection: 0-100%
Operating RH%: 0% to 99% non-condensing (TrueIAQ). Outdoor sensor protected from condensation.
Temp reading range: -40°C to 50°C (-40°F to 122°F)
Temp accuracy within range: 0.4°C (0.72°F)
Humidity reading range: 5% to 95%
Humidity temp accurate reading range: -20°C to 50°C (-17°F to 122°F)
Humidity accuracy over that range: +-4.5%
Maximum real time clock drift over 1 year: 7 minutes
Vertical mount to cover one gang box
Flame Rating: UL94V-0
RoHS compliant
Relay life: 100,000 cycles at 1A 24Vac
Power Supply:
24Vac ± 20% 50, 60Hz (TrueIAQ control)
24Vdc 2-wire over communication bus, not polarized (outdoor sensor)
Protected against voltage spikes
Not protected against over voltage connection (ex 120 or 240V)
All setup parameters are stored indefinitely
In the Event of Power Failure:
Real-time clock is maintained for 4 hours
All outputs are deactivated
All setup parameters are stored indefinitely
Mechanical Design:

Dimensions: 2-3/4" W x 4-3/4" H x 7/8" D (TrueIAQ control); 2-3/4" W x 3-3/4" H x 7/8" D (Outdoor sensor)
Weight: .35 lbs (TrueIAQ control); .15 lbs (Outdoor sensor)
Temperature Unit Display: °C/°F
5-Year Manufacturer's Warranty
Attractive Design
Easily Understood Instructions
Easy Installation
Simple Interface
Needs backlight always on
Needs temp calibration
Comments about Honeywell TrueIAQ Digital Humidistat, Dehumidistat, Fresh Air Control:
Only short comings are the lack of temp calibration capability and an always on backlight like the Honeywell thermostats; otherwise a great product..............