Honeywell C7189R1004 Wireless Indoor Sensor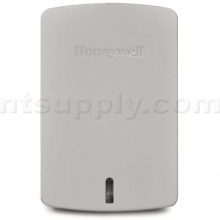 Click to Zoom
About This Product
| | |
| --- | --- |
| MFG: | Honeywell |
| MFG#: | C7189R1004 |
| Our#: | 177076 |
Honeywell C7189R1004 Wireless Indoor Sensor for Prestige 2.0 Thermostats

The Wireless Indoor Sensor(s) is used to change the sensing location of the thermostat.

This sensor monitors temperature and humidity in any indoor location and transmits it wirelessly to the thermostat. You can set the system to monitor temperature at the thermostat, or at the sensor location, or use an average of both to optimize comfort throughout the home. The thermostat can accommodate and average temperature readings from as many as 6 sensors. When multiple sensors are installed, the thermostat can monitor temperature and humidity in separate locations, and you can set it to use different readings from different sensors. For example, one sensor can control humidification on the main level, while another controls dehumidification in a crawl space. For more information, see the instructions provided with the thermostat.

FEATURES:


Works with RedLINKT 2.0 thermostats
Sense temperature and humidity remotely
Average temperature
Control temperature and humidity in separate locations.
Humidify and dehumidify in separate locations. For example, humidify on the main level and dehumidify in the crawl space.
Up to 6 Wireless Indoor Sensors per thermostat.
Works with:

Prestige 2.0 Thermostat Model THX9321R5030
Prestige 2.0 Kit Model YTHX9321R5079
Prestige IAQ 2.0 Kit Model YTHX9421R5051
Prestige IAQ 2.0 Kit Model YTHX9421R5069

Comments about Honeywell C7189R1004 Wireless Indoor Sensor:
This is a great addition to a Prestige 2 system, allowing remote temperature control. It's wireless & easy to install, and could be used for a number of remote temperature and humidity control applications.