Ecobee Internet Enabled Smart Thermostat - EB-STAT-02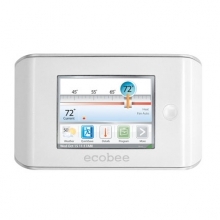 Click to Zoom
About This Thermostat
| | |
| --- | --- |
| MFG: | Ecobee |
| MFG#: | EB-STAT-02 |
| Our#: | 175375 |
| Programmable: | Yes (7 Day) |
| Stages: | 4H & 2C |
| System Compatibility: | Single Stage, Multi-Stage, Heat Pump |
| Power Options: | 24 VAC Hardwire |
| Heat/Cool Changeover: | Automatic or Manual |
| Programmable Fan: | Yes |
| Temperature Limits: | No |
| Keypad Lockout: | Yes |
| Backlight: | Yes |
| Vacation Hold: | Yes |
CLICK HERE TO SEE PRODUCT DEMO
Ecobee Internet Enabled Smart Thermostat - EB-STAT-02

Ecobee helps homeowners conserve energy, save money and reduce their environmental impact. Our green automation platform sits at the convergence of energy conservation, green technology, the networked home and consumer electronics. Our products automate energy conservation, making it easier to save on energy costs without sacrificing comfort.

The Ecobee Smart Thermostat Kit Includes:
* Ecobee Touchscreen Thermostat - to be mounted on your wall in an appropriate thermostat location
* Ecobee Equipment Interface Module - to be mounted in utility room that's near heating, cooling equipment.

How it wires together:
4-conductor thermostat wire runs from the thermostat to the Interface Module. Wiring for HVAC functions connect from Interface Module to heating, cooling equipment. Wiring for humidifier, dehumidifier, ventilation equipment also connects to Interface module. Thermostat connects via internal wireless radio to wireless home router point for internet control. Power for Equipment Interface Module provided by HVAC 24V transformer (NOTE: A Power Adaptor Is No Longer Included but can be purchased separately).

KEY FEATURES:

Color touch screen display with extremely intuitive interface
Precision +/- 1°F (0.5°C) temperature control
Remote access via the Internet - required wireless router
Vacation scheduling - conserve energy while you are away from your home for extended periods
Seven-day programming schedules
Humidity monitoring and control - includes frost control to minimize window condensation
Access control - require 4-digit password to restrict changes to thermostat - great for vacation rentals
Intelligent algorithms that adapt to your home and preferences
Advanced furnace fan control - allows the homeowner to determine a minimum time per hour that the furnace fan will run.
Local weather display - when connected to internet thermostat uses your registered location to display local weather
Ventilator control - provides contact closure relay to control HRV's / ERV's
Quick Save function - pressing the Quick Save button as you leave your home will put your thermostat in to an energy saving configuration.
EnergyStarT compliant
3-Year Warranty
SPECIFICATIONS:
Temperature set point: 45°F - 92°F (7°C - 33°C) / display: 40-100 °F (5-37 °C)
Humidity set point: OFF, 20 to 60% R.H / display: 0 - 90% R.H
dimensions
Smart Thermostat: 5.5"W x 3.25"H x 1"D
Equipment Interface: 4.6"W x 10"H x 1.3"D

Merchant Services
ProThermostats.com Price:
$326.00
Regular
$399.00
,
You Save $73.00 (18%)
In Stock
Standard: 2-7 Business Days: Free!
Shipping fees listed are for a quantity of (1)