Ecobee Internet Enabled Smart Thermostat - EB-SMARTSi-01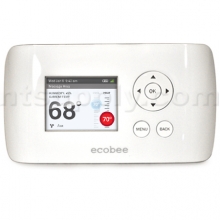 Click to Zoom
About This Thermostat
| | |
| --- | --- |
| MFG: | Ecobee |
| MFG#: | EB-SMARTSi-01 |
| Our#: | 177308 |
| Programmable: | Yes (7 Day) |
| Stages: | 3H & 2C |
| System Compatibility: | Single Stage, Multi-Stage, Heat Pump |
| Power Options: | 24 VAC Hardwire |
| Heat/Cool Changeover: | Automatic or Manual |
| Programmable Fan: | Yes |
| Temperature Limits: | No |
| Keypad Lockout: | Yes |
| Backlight: | Yes |
| Vacation Hold: | Yes |
Ecobee Internet Enabled Smart Thermostat - EB-SMARTSi-01

Ecobee helps homeowners conserve energy, save money and reduce their environmental impact. Our green automation platform sits at the convergence of energy conservation, green technology, the networked home and consumer electronics. Our products automate energy conservation, making it easier to save on energy costs without sacrificing comfort.

Great features. Great price.
Ecobee is proud to introduce our latest product: the Smart Si thermostat. Offering another easy, smart, energy solution for your home, the Smart Si delivers the quality, innovation and great features you would expect from ecobee-all at a great price.
Easy.
The Smart Si is Wi-Fi enabled, so you can make adjustments to your thermostat on the go from your tablet, computer, iPhone or Smart Phone. An easy to read high-resolution color display, sleek buttons, and an intuitive user interface makes it easy to quickly set a personalized program, adjust your settings and create new vacation events whenever you need to.
Smart.
The Smart Si has a built-in live weather function and uses advanced algorithms so you can be sure your thermostat is always saving the most energy possible. (Now that's smart!) Automatic alerts and reminders notify you when your HVAC equipment is due for service, if there is an equipment malfunction or when it's time to change your filter, so you don't have to worry about it.
Green.
Did you know that setting an energy-saving program through your thermostat is one of the easiest ways to reduce your energy consumption and save money? A research study conducted by the ecobee Energy Modeling Team found that ecobee customers save an average of 26% on their annual energy costs!

KEY FEATURES:
Color display with extremely intuitive interface
Precision +/- 1°F (0.5°C) temperature control
Remote access via the Internet - required wireless router
Vacation scheduling - conserve energy while you are away from your home for extended periods
Seven-day programming schedules
Humidity Sensing (will display humidity - but will not control humidifier)
Access control - require 4-digit password to restrict changes to thermostat - great for vacation rentals
Intelligent algorithms that adapt to your home and preferences
Advanced furnace fan control - allows the homeowner to determine a minimum time per hour that the furnace fan will run.
Local weather display - when connected to internet thermostat uses your registered location to display local weather
3-Year Warranty
SPECIFICATIONS:

The Smart Si thermostat is designed to operate with low-voltage heating and cooling systems. It is not designed for use with line-voltage or millivolt heating and cooling systems.
The Smart Si thermostat supports:
Up to 2 heat and 2 cool stages on a conventional system.
Up to 3 heat and 2 cool stages on a heat pump system.

The ecobee Smart Si thermostat supports the following equipment:
Gas/Oil/Electric heating - Yes (up to two stages)
Heat pump with auxiliary heat - Yes (up to three stages)
Geothermal Heat Pump Yes
Dual fuel systems Yes
Standard electric cooling - Yes (up to two stages)
Boilers - Yes
WIFI Specifications:

Your Smart Si Thermostat is designed to support:
A 802.11 B/G/N wireless router
WEP 64, WEP 128, WPA and WPA2 encryption methods
Dynamic or static IP addressing.
Temperature ranges
Heat: 45 to 79 °F (7 to 26 °C)
Cool: 45 to 92 °F (14 to 33 °C)
Display: 40 to 100 °F (5 to 37 °C)
Sensitivity: +/- 1 °F (0.5 °C)
Operating: 32 to 130 °F (0 to 55 °C)

Humidity Range
Display: 20 to 90% R.H.
Sensitivity: +/- 5% R.H.
Operating: 5 to 95% R.H (non-condensing)

Thermostat Dimensions: 5.5"W x 3.25"H x 1"D (139.5mm H x 82.5mm W x 25mm D)
Power 24 VAC (3VA minimum)
Easy To Adjust
Easy To Install
Intuitive Controls
Precise Controls
Comments about Ecobee Internet Enabled Smart Thermostat - EB-SMARTSi-01:
This is my 2nd Ecobee stat, I also own the Smart stat for my vacation home. I love being able to monitor and adjust my temperature remotely.
Installation of the Smart SI is a snap; set up (connecting to the home router) and programming were just as easy.